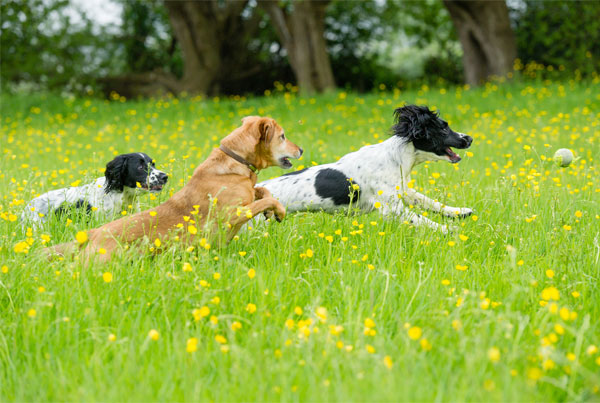 Those long summer days can be an absolute joy for many of us, but for some, they can spell one thing; allergies! Unfortunately, the same applies to many of the nation's dogs. The good news is, there are several remedies for your dog's allergies. Our blog post will help you identify some common symptoms as well as give you an opportunity to gather some top tips to help your dog with summer allergies. Ready to soothe and keep those allergies at bay?
Does My Dog Have A Summer Allergy?
Noticing changes to your dog's behaviour and their general condition during specific times of the year is the best way to identify if your dog has summer allergies. Your dog may display symptoms in the following ways:
• Excessive scratching, rolling around etc due to itchy skin
• Excessively licking their paws
• Rubbing their ears & nose more often
• Visibly sore skin e.g. red, dry particularly near their eyes, between paws, legs etc
Summer Allergy Public Enemy Number One: Grass Pollen
Understanding the cause of any allergy can give you and your dog the best chance of minimising the impact. As with most common allergies in the summer, pollen is the main culprit. Specifically, grass pollen is public enemy number one for dogs with summer allergies and is most common from May to July. Tree pollen can also be problematic for some dogs but this is mostly found in spring. So be particularly mindful during these specific times of the year….
How To Help Your Dog With Summer Allergies
There are a number of summer dangers for your pet but thankfully, there are several ways to help your dog with summer allergies so you can minimise associated symptoms:
1. Avoid walkies on grass: If you know grass pollen is causing your dog discomfort, try to avoid it as much as possible, particularly between May and July, when it's usually most problematic. This could be a pawfect opportunity to explore new walking routes with your dog.
2. Wipe your dog after walkies: If your dog does come into contact with grass during their walk, wipe them over with a damp cloth as soon as you get home, including their paws. This helps to remove the excess pollen on your dog's coat and also doubles-up as a lovely soothing sensation too!
3.Pollen check & walking times: It's easy to check the pollen count these days via various apps and weather forecasts. On days which have high pollen counts, really try to avoid the grass. Also limit your daily walkies to times when the pollen is likely to be at its lowest e.g. early morning or early evening. Your dog might not be grateful for the early morning wake-up call initially, but he/she'll thank you if it reduces the symptoms of summer allergies.
4. Regularly clean bedding: Pollen has a habit of falling from your dog onto their bedding. Dogs then lay in their bed and the cycle begins again, causing further discomfort to your dog. By regularly vacuuming and washing their beds and blankets, this helps to stop this cycle.
5. Soothe their skin: Despite your best efforts, sometimes your dog may still struggle with some side effects of summer allergies. Itchy skin can be one of them. Thankfully there are a number of ways you can help your dog tame their itch!
Our soothing Skin Balm For Dogs is packed full of soothing herbs which help to moisturise and repair sore skin. They do this by softening skin and helping stimulate cell growth. The chamomile and calendula ingredients also help to calm irritated skin. Apply our skin balm regularly to your dog's itchy skin if you notice any symptoms and do so until it disappears.
Prevent Irritation With Natural Dog Shampoo
Bathing your dog with natural dog shampoo occasionally during the summer months can be helpful too. Doing so not only soothes skin and keeps your dog cool but also helps to remove any excess pollen still hitching a ride on your dog's coat!
Your dog might be spending some time at the beach or in water more often during the summer months too. The combination of murky or salty water and sand can also add to skin irritation if not washed off properly. Thankfully, we have a brand new range of shampoos to help with all of these summer symptoms!
All three have no artificial fragrances, SLS or parabens and are silicone, mineral oil, petroleum and PEG-free. Our natural shampoos for dogs can help in the following ways:
· Soothe Sensitive Skin
Has your dog become itchy over the summer months? Is their skin sensitive and sore? Our Oatmeal Advance shampoo has been reformulated to create our Soothe & Calm Shampoo. Whilst it can be used for all dogs, this has been specially formulated for dogs with sensitive and irritated skin.
This soothing shampoo for dogs helps to maintain coats and works thanks to the combined efforts of the ingredients. These include oatmeal, aloe vera, chamomile extract and lavender essential oil and extract. An awesome super-power of soothing and cooling in one bottle!
· Say Goodbye To Fleas!
During the summer months, fleas particularly thrive, as they love the warm conditions. Fleas can add to the misery of symptoms of allergies, such as itchy skin. Our new reformulated Clean & Fresh Shampoo replaces our pennyroyal shampoo.
This fresh scented shampoo for dogs contains black peppermint essential oil (traditionally known to deter parasites). Working alongside this is eucalyptus and lemongrass essential oils, combining to help deter the fleas (apparently they don't like the minty smell!) Plus, it can be a good way to keep your dog cool and remove excess pollen too.
· Enhance Coat Shine & Moisturise
Finally, the newest addition to our shampoo range is our Scent & Shine Shampoo. It contains the same soothing properties such as aloe vera and chamomile extract but combines with some different essential oils which aid both skin and coat. This includes rose geranium which soothes and balances the skin, blood orange which enhances coat shine and reduces redness as well as jasmine which heals and moisturises.
6. Soothe their paws: Itchy paws can be frustrating for your dog. Excessive paw licking can lead them to become cracked and sore. Thankfully our soothing Paw & Nose Balm For Dogs could be the 'paw'fect solution! It's lick-safe and includes soothing ingredients such as calendula, marshmallow, chickweed, beeswax and pure shea butter, all of which help to calm the itch and nourish the skin.
7. Regularly maintain your dog's coat: Grooming your dog is important throughout the year but keeping your dog regularly groomed during the summer months helps to remove excess pollen, prevent itchiness from loose fur and also helps your dog keep as cool as possible.
8. Help from the inside, out: Did you know, there are several ways to ease the symptoms of summer allergies from the inside, out? Find out more about our natural remedies for dog allergies.
Dorwest Garlic & Fenugreek Tablets can be used for the symptomatic relief of minor infections and skin conditions. This is because Garlic and fenugreek contain active compounds that are proven to help the body remain strong against disease, parasites and infectious agents in a variety of ways, as well as amino acids that are essential for growth and repair. When combined, these two superherbs complement each other, boosting their overall effects. Use alongside Dorwest Green Releaf® Tablets which contain a combination of natural analgesic, antioxidant and antihistamine compounds, these tablets help to soothe itchy skin and remove toxins from the system.
Top Tip: Using these products together helps maximise the results. Garlic & Fenugreek Tablets work perfectly with our Green Releaf® Tablets to nourish and relieve the skin from the inside out.
Our Omega Star® is also a great way to help with your dog's skin and coat as it moisturises, calms and nourishes the skin moisture barrier and helps restore coat shine and supports quality coat growth. Flax seed oil, blackcurrant seed oil and borage seed oil are all rich in omega 3 & 6 oils, which are important in regulating skin renewal, reducing scurfiness, soothing sensitive skin and improving coat. Along with Vitamin E, a powerful anti-oxidant, perfect for maintaining the skin's natural defences.
If you're unsure which would be best for your dog, always feel free to contact our friendly advisors, who are packed full of helpful knowledge! remember to always consult your vet if symptoms persist to ensure there are no other reasons why your dog may be in discomfort.
Goodbye Summer Allergies, Hello Happy Dogs!
Hopefully, you now feel armed with the tools and knowledge to help your dog with summer allergies. Goodbye summer allergies, hello happy dogs! We'd love to hear your summer allergy stories and how you've helped your dog overcome them. Come and say hello on Instagram or Facebook pages or pop a comment below.
---
Dorwest Herbs are experts in herbal pet care and have been helping dogs become healthy and happy for over 70 years. To find out more our natural allergy relief for dogs please get in touch on 01308 897272 or use our contact form. Plus, get free UK delivery on orders over £50.