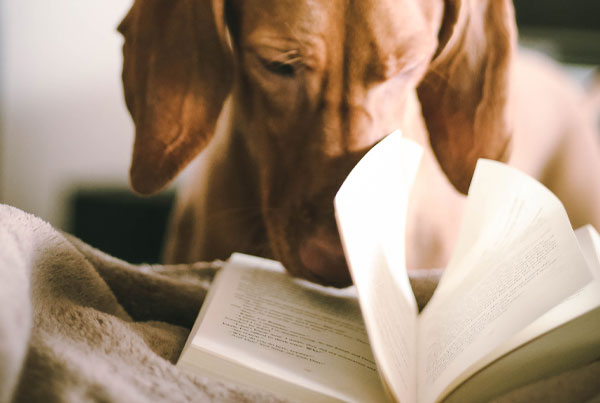 ---
There's nothing better than relaxing with a good book with your dog by your side (especially if the book is all about dogs!). With this in mind, we're going to help you celebrate "National Reading a Book Day" on Sunday September 6th by rounding up some inspiring dog books which you might like to enjoy. Plus, we'll explore the benefits of reading to dogs too. So, grab those reading glasses & get ready to choose your next dog book…
THE PAWFECT EXCUSE TO READ A GOOD DOG BOOK…
As you may know, reading at any age can;
• Help reduce stress
• Aid sleep
• Expand vocabulary
• Offer an opportunity to escape the realities of life
And these are just some of the many reasons to enjoy National Reading a Book Day with a good dog book. But did you know reading to dogs also has benefits, specifically for children? The benefits of children reading to dogs include increased confidence to read out loud (as dogs don't judge) and speech improvement. Dogs can help make reading fun for children when it might have previously been a source of stress.
Thankfully, there are a number of charities and social enterprises across the UK which help to take dogs into schools for this very reason. The Kennel Club have created their Bark and Read Foundation, funded by the Kennel Club Educational Trust, to promote such work. The foundation provides money to charities such as Pets as Therapy, enabling more volunteers to go to schools with their dogs. This helps even more children to reap the benefits from reading to dogs. The dogs enjoy the company and attention too.
A SELECTION OF DOG BOOKS TO ENJOY…
So, we know the benefits of reading to dogs but the hard part can be deciding which book to read! Hopefully, we can make this decision a little easier with our round-up below:
1. Adventures in Petlandia by Petlandia
To kickstart our list, we thought we'd start with a children's dog book. Wouldn't it be wonderful if your child could read a book, starring their very own four-legged friend? Well, they can!
With the help of Petlandia, your dog can become the star of a book. With a few clicks of a button, you can personalise "Adventures in Petlandia" with your own pet, hometown and owners name. Wonderful, eye-catching illustrations help make this not only a good book to read but a keepsake too.
2. Lucy's Law by Marc Abraham
Over the last few years, there have been a number of powerful non-fiction books featuring some inspirational dogs. One of the most recent releases is this one, which shares the incredible story of a little dog who changed the world.
This little dog is Lucy, a Cavalier King Charles Spaniel who was born into a Welsh puppy farm in 2008. The book chronicles her journey from puppy farmed dog to forging a path for change in puppy farming practices. This change culminated in a new law being passed which came into effect this year; Lucy's Law. This is a true rags to riches story and goes to show how dogs and people can work together to bring about positive change in the world.
3. Fabulous Finn by Dave Wardell & Lynne Barrett-Lee
If you're looking for dog books which showcase bravery and determination, this has to be the one! The book focuses on the true story of Finn, a German Shepherd police dog who was stabbed in the line of duty in 2016. He saved his handlers life by taking the brunt of a 10-inch blade.
Whilst Finn almost paid the ultimate price to protect his handler and apprehend a violent criminal, there's a lot more to his story. From starting his Police journey at 9 months old, to finding missing children and enjoying his retirement, this book shares it all. Not only are there extreme levels of bravery showcased in this book but at the heart of it, there's the love between dog and human.
4. Lily & The Octopus by Steven Rowley
Whilst this dog book has been around for a number of years, it still remains one to add to your book shelf, if it's not there already. As pet parents, we all know the amazing companionship our dogs provide to us. Lily the Dachshund and her owner Ted are the focus of this fiction delight.
This novel beautifully summarises this special relationship and all the twists and turns which come with loving a dog; including saying goodbye. If you love Marley and Me, then this book is likely to strike a chord with you. You'll need a tissue or two but expect a number of smiles along the way too.
5. Olive, Mabel & Me by Andrew Cotter
You might have found some light relief via these three on social media over the last few months. For those who don't know, Andrew Cotter is a professional sports commentator…who started commentating on the antics of his two Labradors, Olive and Mabel, during lockdown. Needless to say, they all picked up a legion of firm fans which has led to a brand-new book all about their lives together. It may be a little late for National Read a Book Day, as it's available on the 15th October, but at least you can pre-order now!
WHICH DOG BOOKS ARE YOU GOING TO CHOOSE?
Hopefully, you've found our little round-up of dog books helpful. Which one are you going to choose for your new read? We'd love to hear which dog books get your vote. Let us know in the comments below or via social media.
Dorwest Herbs have been working with dogs for almost 70 years and are the leading UK provider of herbal pet supplements.
To find out more about our products including our range of natural shampoos and herbal supplements for dogs, get in touch with our experts today on 01308 897 272. Alternatively, email us at info@dorwest.com or fill out our online contact form. Plus, get free UK delivery on orders over £50 and 10% off full-priced products for life when you join the Dorwest Loyalty Club.