Reggie is a rescue Staffordshire Bull Terrier who is incredibly scared of bangs and noises, his owner contacted after last years Fireworks Night, here is his story….
"Reggie was my first foster dog when I started working at Jerry Green Dog Rescue, he was very anxious and stressed with kennel life so came home for a long weekend, which turned into a week, then two, then three….then forever.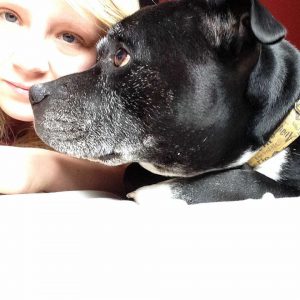 For the most part Reggie is one of the most relaxed dogs I have ever met; he takes everything and everyone in his stride. He loves everyone he meets and likes to show them by covering them in Staffy kisses!
Unfortunately when he hears fireworks or gunshots our loving, chilled boy disappears. Even just one sends him into complete meltdown and he just doesn't cope.  Seeing someone you love so scared, completely in panic mode and not being able to do anything is one of the most heart-breaking things I've had to experience.  I can't imagine what it's like for him.  I completely dread the time of year from now up until after New Year's as most times you can't predict when fireworks will go off, and even when you can sedating a dog feels wrong.  We have tried so many products and methods to help him, our vets gave us different drugs both natural and conventional, but nothing seemed to touch the sides no matter what.
Until we started Do
rwest's Scullcap & Valerian Tablets and  Valerian Compound.
At worst he is now a little worried, and at his best he is snoring on his back as fireworks go off all around us.
The first time he didn't flinch, or start shaking, or start panting and pacing when he heard a firework. I nearly cried, then when they continued banging and he laid there asking for tummy rubs I just hugged him with massive relief! It feels like a huge weight off my shoulders.
We're having a sneaky long weekend away to a log cabin the middle of nowhere where over bonfire night weekend to reduce his stress and anxiety but it's fantastic to know that even if the odd sneaky firework goes off he will be okay.
So all I really want to say is thank you from both myself but most of all Reggie!"
Miss B Burke, Lincolnshire
If you want to discuss using Dorwest's calming products with one of their experienced advisors, please call 01308 897272 or email advice@dorwest.com