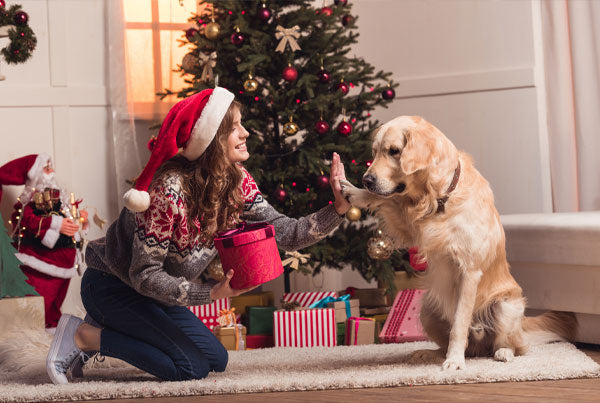 ---
Well, what a year it's been! As 2020 is drawing to a close, we thought we'd take a moment to look back over the past year and share your favourite Dorwest herbal pet care products. So, in reverse order, here's the run down of your top 6 from 2020…
---
Number 6: Turmeric Tablets
Coming in at number 6 this year is our Dorwest Herbs Turmeric Tablets for dogs. So what has led them to be in your top 6 for 2020? They can be a great aid for dogs struggling with their joints, for example due to the ageing process or injury.
Our Turmeric Tablets for dogs are specially formulated, consisting of 95% curcuminoids. These are the active parts of Turmeric which help support your dog's anti-inflammatory processes. They are combined with black pepper extract, helping your dog absorb all this gorgeous goodness. Together, these ingredients make this product a firm favourite for owners with dogs who benefit from a little extra support with their joints.
Want to learn more about Turmeric Tablets for dogs and how it could support their joints? As specialists in herbal pet care, Dorwest Herbs know all the golden secrets and benefits of turmeric for dogs.
---
Number 5: Keepers Mix
The Dorwest Herbs Keeper's Mix has proven again it's a staple product which you and your dog's love year after year. After all, this is why you've made it number 5 in our herbal supplements for pets countdown for 2020. This is a perfect super-boost to your dog's diet, particularly if they're raw fed. When we say a super-boost, we mean it! Thanks to a combination of 8 herbs, they all work together in harmony to promote all-round health. These include: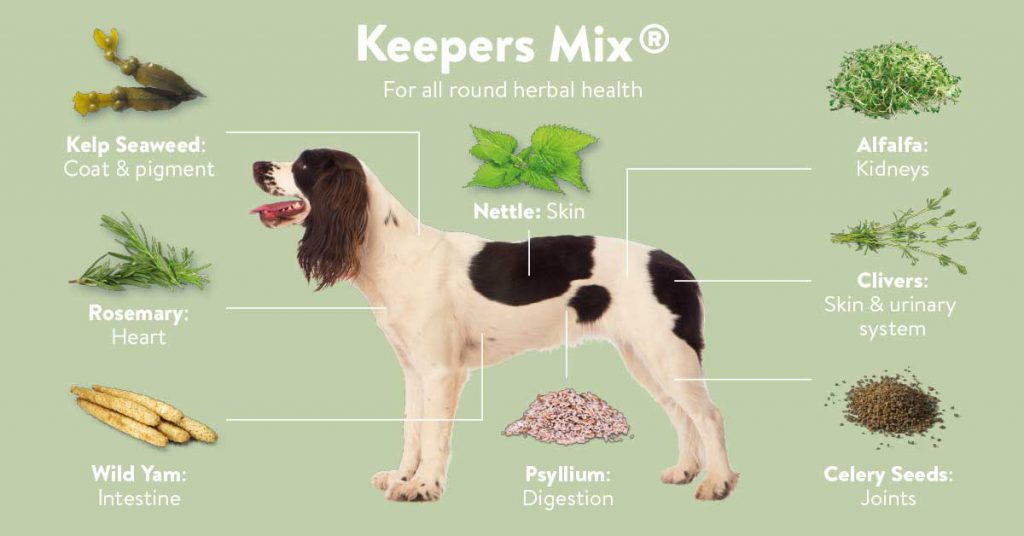 The benefits of these herbs in our Keeper's Mix for dogs range from suppleness and free movement, to healthy bowel and digestion, as well as essential vitamins to promote overall health. This is our foundation herbal pet care product, with 10% of sales going to our Dorwest Foundation which helps support dogs in need. A perfect combination, so that both your dog and others can benefit. We're proud to see it featured within the top 5 of your Dorwest Herbs favourites this year.
---
Number 4: Green Releaf Tablets
Just missing out on the top 3,are our Green Releaf Tablets. These provide natural support for a whole host of issues includng skin, seasonal allergies, joint discomfort and are even used as an aid for normal urination. So how does it help? It's all thanks to the soothing PH balancing properties our Green Releaf Tablets provide.
The ingredients consist of watercress, celery seed, celery plant, horseradish and parsley. A gorgeous blend of green goodness, all working together to deliver great results for your dog.
---
Number 3: Tree Barks Powder
Moving into our top 3 and you've given our Tree Barks Powder this important position this year. What makes this one of your favourite herbal supplements for pets? As a pet parent you're bound to see your dog enduring a poorly tummy at some stage of their life. The good news is that our Dorwest Herbs Tree Barks Powder helps to combat this. It naturally aids digestion for dogs with diarrhoea and intestinal disorders. These herbal remedies for dogs are suitable for use at all stages of a dog's life. From puppies to golden oldies this herbal pet care product continues to work wonders. It can even be used as a one-off if they've eaten something naughty or if they have a long-term condition.
The two ingredients found in this powder are 90% slippery elm bark and 10% white poplar bark. These create something magical by transforming from powder into a jelly like substance. This then soothes the stomach and digestive tract as it makes its way through your dog's body. One of the must-have herbal supplements for pets for any pet parent to help keep those tummy troubles at bay.
---
Number 2: Garlic and Fenugreek Tablets
Just missing out on the top spot of your favourite herbal pet care products for 2020 are our Garlic and Fenugreek Tablets. Our Dorwest Herbs veterinary licensed herbal medicine is used for symptomatic relief of a number of ailments. Such as, skin conditions, arthritis, coughs and even minor infections. They even help to strengthen your dog's immune system when used long-term. It's a privilege to provide support to your four-legged friends experiencing any of these conditions.
These tablets work so well as they are full of natural active compounds to help keep your dog feeling in tip top condition. The garlic provides antibiotic, antiseptic, anti-viral and anti-inflammatory actions. As well as this, the fenugreek also provides anti-inflammatory properties and both ingredients compliment each other perfectly in these tablets, promoting general health and helping to increase resistance to infections naturally supporting the immune system. For those suffering with arthritis or skin conditions, they work even better when combined with Green Releaf. You can also use together with Glucosamine & Chondroitin Tablets to aid joints. When combined they help to maximise the benefits of each of the herbs so your dog feels in peak condition. Fantastic! Happy dog, happy pet parent.
---
Number 1: Scullcap & Valerian Tablets
So the results are in! Our Dorwest Herbs Scullcap & Valerian Tablets have taken your number one spot. A firm fan favourite for herbal pet remedies, year in and year out. We're so glad they've helped provide extra comfort to so many pets over the last year and far beyond.
So why have they been so popular? They help to support dogs experiencing anxiety alongside training and behavioral support. This is due to the ingredients of scullcap, valerian, mistletoe and gentian working together. Combined, these support the calming pathways within the nervous system, leading to a calmer pet, with no drowsiness. There are no zombie dogs here, just dogs who need a helping hand. In particular, with situations such as fireworks, car travel, separation anxiety and so much more. The combination of these tablets and owners like you preparing in advance of potential anxiety inducing situations, such as firework season, has helped these tablets work their magic. These herbal supplements for pets prove why they are your favourites for 2020.
---
Which are your favourite herbal pet care products this year?
So, have your beloveds made it to the top 6 this year? Which do you and your dog love the most? We'd love to hear all about your favourites and why. Pop them in the comments below or share your thoughts over on our social media pages.
As always, thank you for your continued support of Dorwest Herbs this year, it means a lot. We love being able to provide support to you and your dogs. We look forward to discovering which are your top ranking next year!
---
Would you like some further advice about any of the herbal pet remedies listed? Read our beginners guide to herbal pet care and remember, you can always ask an advisor via our website, phone or social media. Plus our blog posts have lots of information too. Get in touch with Dorwest Herbs by calling +44 (0) 1308 897272 or emailing info@dorwest.com.