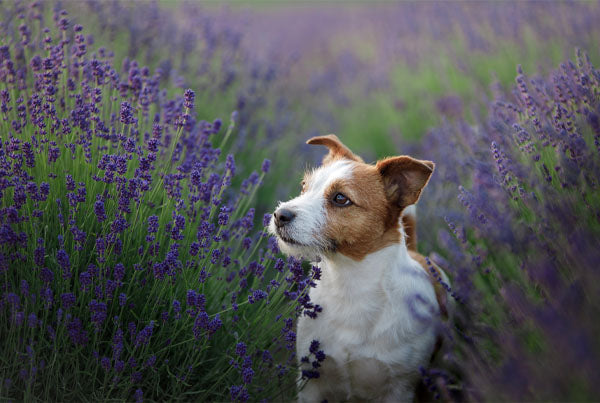 Have you ever wanted to introduce herbal pet care to your dog but don't know where to start? Well, you've come to the right place! We're going to help you start your herbal pet care journey with your very own beginners guide. You'll discover how to get started, learn about some of our recommended herbal products for dogs and explore what support is available to you.
Some of our 'everyday essentials' dog supplements
One of the most common reasons for purchasing herbal products for dogs is to promote good general health. Whilst some herbal dog care products can be used to treat specific issues, at Dorwest Herbs have our four 'Everyday Essentials' which can be a perfect way to help maintain a happy dog. A lot of these work well together too. These all-rounders include:
• Keepers Mix & Keeper's Mix Sensitive: Our unique blend of herbs to support all-round health. Keeper's Mix is our top selling dietary supplement for dogs, and we know why – it gives your dog's diet a super-boost and helps maintain the condition of their skin and coat. Our Keeper's Mix range is expanding and we're happy to introduce Keeper's Mix Sensitive. An extra gentle formula ideal for puppies and dogs with known sensitivities.
• Omega Star: A beautiful blend of Omega oils combine to nourish skin, restore coat shine and promote hair growth. Just think of those lovely, shiny locks! Easy to add to your dog's food and the results speak for themselves.
• Garlic and Fenugreek: These come in tablet form and are the perfect herbal supplement for dog's to boost their immune system. They can also soothe the symptoms of dog's who struggle with arthritis, minor infections and skin conditions too. One of our best sellers for 60 years, and a fundamental Dorwest herbs 'staple' product, packed full of natural active compounds to support general health and help keep your pet feeling their best.
• Green Releaf: This is another great all-rounder to support your dog's health. These also come in tablet form and can maintain healthy skin, particularly when sensitive. They can also be used to help maintain healthy joints and kidneys and as an aid for normal urination. – things that owners of older dogs often worry about.
How to decide which products to choose?
Thankfully, there is a lot of support available to help you with choosing the right herbal products for your dog's needs:
• The Dorwest Herbs website: With options such as shop by condition, A-Z of common problems & regular blog posts, our website is a great first step to understanding herbal pet care and all the benefits it can bring. From allergies to whelping and all that's in between, you can find it here.
• Dorwest Herbs social media platforms: You can discover lots of helpful information via our Facebook, Instagram & Twitter platforms. Our very own MD, Jo Boughton-White, hosts various Live Q&A's regularly too, providing you with exclusive access to learn all about herbal pet care and our range of herbal products for dogs. We also have a fantastic Facebook Group where our followers share information and experiences. Our advisor's are also on hand in there. Come and join in, we'd love to see you.
Get on the 'dog & bone' to our advisors: To discuss more specific issues surrounding herbal dog care, speak to one of our advisors on the phone.
How to introduce fussy eaters to herbal supplements
Is your dog a fussy eater? We've got you covered.As with any changes you make to your dog's lifestyle and diet, do so gradually. It may be useful to consult your vet before making any changes too, especially if your dog is on existing medication. All our herbal supplements for dogs are suitable to be used for dogs over 8 weeks of age (with Tree Barks Powder available from weaning age).
Our products come in a range of varieties from tablets and oils to herbs sprinkled on their food. It's always helpful to consider how your dog may take to these. For example, many dogs love nothing more than wolfing down their daily dosage but what if your dog is a fussy eater? With herbs like our Keeper's Mix for Dogs, the key really is to introduce it gradually and in smaller doses to begin with. You can also consider mixing with natural yogurt or even mashed up banana initially.
If the product you've chosen comes in tablet form, you might want to consider crushing them and sprinkling over your dog's food. Or you may choose to wrap the tablets in something tasty instead (or they'll just accept it as a yummy treat – so many do!).
What about the dosage?
All our herbal products for dogs are carefully labelled with full instructions about dosage and ingredients. This means we're able to meet the needs of all dogs, large and small. We recommend giving half the daily quantity of any products in the morning and half in the evening. Our latest herbal pet care catalogue provides a clear breakdown of all the products and dosage levels.
Remember, if you're still unsure, just contact our advisors. They'll happily provide any advice you need specifically for your dog. No question is too big or too small, so always feel free to reach out and ask.
How long until you see results?
Herbal pet care can deliver some wonderful results. As with all things in life, the best things take a little time. With this in mind, we recommend giving herbal products at least a month to start working their magic and delivering some results. However, some of our supplements for dogs, e.g. Valerian Compound, have a much faster effect.
Ready to begin your dog's herbal pet care journey?
Hopefully, you're now closer to beginning your herbal pet care journey with your dog. Are you excited?! Let us know how you're going to start (and if we can support you in any way). We'd love to hear from you and learn about your dog's progress.
Buy Dorwest Herbs herbal supplements for dogs online with free UK delivery on orders over £50 or get in touch with our friendly team of experts on 01308 897 272 or email us on info@dorwest.com. Enjoy 10% off full priced products for life when you join the Dorwest Loyalty Club.
Keeper`s Mix For Dogs And Cats
Keepers Mix is our most popular herbal supplement to maintain optimum health for dogs and cats.
This is a Dorwest Foundation product!
FROM: £14.90

Omega Star For Dogs
Omega Star® for dogs provides plant based omega enrichment for nourished skin and a quality coat.
FROM: £23.50

Garlic & Fenugreek Tablets For Dogs
Naturally supports all-round health, stimulate a strong immune system and promote healthy skin
FROM: £10.00