Calm your pet's summer skin problems with 25% off our natural skin products!
Skin problems can be a real source of misery for our four- legged friends, causing a range of unpleasant symptoms, from itchiness to sore patches. They are unfortunately common, especially in dogs over the warmer months when heat, pollens and parasites are at their peak. But they can be managed, to help keep your pet comfortable and itch-free all summer long.

Our all-natural herbal supplements can be a great place to start, soothing your pet's skin from the inside, out.
Use code SKIN23 at the checkout
Support itchy, smelly or sensitive skin:
For pets with skin sensitivities, our Garlic & Fenugreek Tablets can help to maintain normal skin function. High in antioxidants (which neutralise free radicals) for a calming action, garlic and fenugreek also contain compounds that help the body remain strong against infectious agents – including parasites and bacteria. They are especially effective when used in combination with our Green Releaf® Tablets, to help promote and maintain healthy skin and joints. Green Releaf Tablets deliver a powerful combination of natural active compounds which work together to naturally support your pet with soothing, cleansing and pH balancing properties.
Garlic & Fenugreek Tablets and Green Releaf® Tablets
Duo RRP from £20.00 £15.00
TOP TIP – Using these two products together helps maximise the results!
Garlic & Fenugreek Tablets work perfectly with our Green Releaf Tablets to naturally support the skin. As skin takes about three weeks to regenerate in dogs, it's best to use these products for at least a month before expecting to see an improvement.
Nourish dry, scurfy or flaky skin:
A carefully created blend of plant-based nutritious oils, our Omega Star® effectively moisturises, calms and nourishes the skin, and supports quality coat growth to restore shine.
Omega Star®
RRP from £23.50 £17.62
Calm hot, prickly or uncomfortable skin:
All the power of 'super-greens' in an easy-to-give powder. Just add our Easy-Green® powder to your pet's normal food for them to get all the benefits of eating a bowl of greens, without a spinach leaf in sight! Ideal for general health and for pets with hot, itchy skin.
Easy-Green® powder
RRP from £12.90 £9.67
Our Skin Range now has 25% off!
Use code: SKIN23
Offer valid until 30/06/2023
Our 4-step plan to support itchy skin:
Bedding Regularly washing your dog's bed is an easy first step – use unscented detergent and wash at a hot temperature to remove any irritating allergens, such as pollen, dust and associated dust mites.
Grooming giving your dog a good brush each day is really important to maintain a healthy skin and coat, even in short haired breeds. Not only do they (mostly!) love the pampering, it helps to boost circulation and remove old skin, dirt and moulted hair. Regular baths (sorry, we know this can be less popular with some canine family members!) with a gentle shampoo help to wash away allergens and dirt – choose your favourite from our range of lovely natural shampoos!
Feeding we all know the old saying 'you are what you eat', and this is especially important when it comes to looking after you pet's skin. Aim for a high-quality, natural and balanced diet, avoiding colourings, additives and synthetic ingredients. This applies to 'treats' too!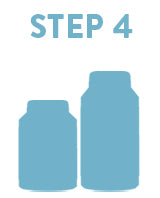 Herbal Support the skin is a large and complex organ with many vital functions, and it takes a variety of essential nutrients, minerals and vitamins to keep it healthy. Our herbal products, especially our Green Releaf® Tablets and Garlic & Fenugreek Tablets, are perfectly balanced to naturally support the skin from the inside out. We only use the highest quality ingredients, packed with powerful natural compounds, to nourish the skin, helping to soothe sensitive areas and maintain normal skin function.
Skin Advice Plan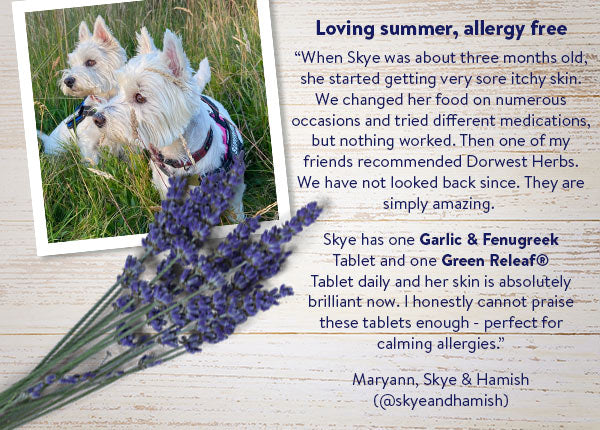 ---
More on the blog…
---
Use promo code SKIN23 at checkout to receive 25% off RRP Garlic & Fenugreek Tablets and Green Releaf® Tablets Duo in S,M, L and XL sizes (please note does not apply to individual products), Omega Star® and Easy-Green® Powder. Please note discount does not apply to Omega Star® multibuy(x 6). No further discounts apply. Special offer runs 1st – 30th June 2023. T&C's apply.
©Allrights reserved Dorwest Herbs 2023.