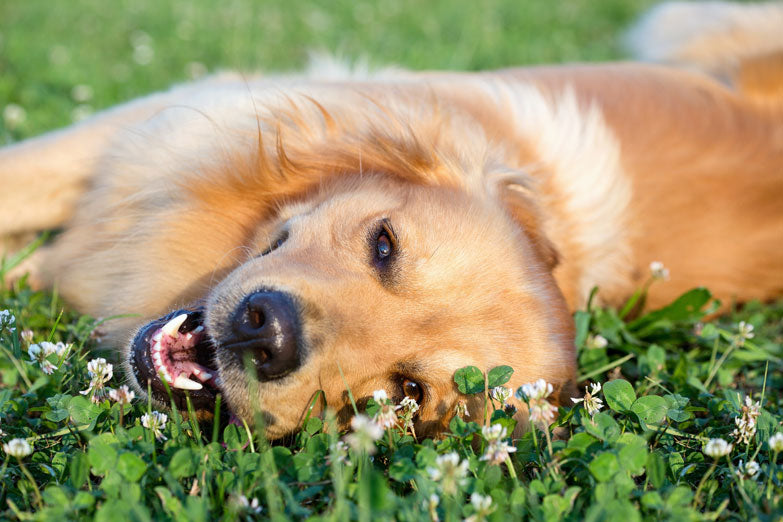 We're living in an uncertain world at the moment. For many of us, our normal routines are changing due to the fight against Coronavirus / COVID19. Amongst all the chaos your dog will remain by your side and together, you might even be able to put this lockdown to good use.
The aim of our blog post today? Well, we hope to bring a little light to your life with our top tips for fun things to do at home with your dog. Together, let's embrace the changes, get creative and put the lockdown to some good use for you and your four-legged friend.
BAKE SOME TREATS FOR YOUR DOG
It's fair to say, most dogs love to be spoilt with a treat or two. Normally you might buy these online or from your local pet store. But have you ever tried making your own treats for your dog? Now could be the perfect time to have some fun at home with your dog by getting your bake-on!
Baking can be a really great way to spend some time and distract you from the stresses of the world. Your dog would really appreciate you baking for them too. So, what will you whip up in the kitchen for your dog? Why not set yourself a challenge to bake or make a new type of dog treat each week?
From muffins to biscuits to ice-treats there are so many amazing options to try. If you're looking for dog-friendly recipes, we have a few delicious suggestions. We'd love to see your recipes, so consider sharing on your social media. Be sure to tag us too, so we can share on our stories!
*When feeding your dog anything new, remember to do so in moderation. Always ensure they have access to fresh water afterwards and consider any dietary restrictions your dog may have. Be mindful of any ingredients you use and always check they are dog-friendly.
CREATE AN INSTAGRAM ACCOUNT FOR YOUR DOG
It's likely we're going to be missing out on a lot of human interaction over the coming weeks. We're moving from in-person interaction to virtual. But guess what? Your dog might be able to help you with that! Why not create an Instagram account of your dog?!
Creating an Instagram for your dog is a great way to connect with other people and a fantastic opportunity to show off all those photos sitting on your phone. Relive some happy memories with your dog by uploading some fun past times with your dog. Plus, you can be creative at home by taking new photos of your dog.
Start dusting off the camera and practise your editing skills. Or make use of your phone, try new settings and learn new photography skills! A pawfect and creative way to have fun at home with your dog!
There's a whole amazing dog community who are going through the same life changes as you. You've got an amazing common-ground of love for dogs, so why not connect with them? A great way to stay social and you might also pick up some new tips from following other dog accounts, which might benefit you and your dog too!
Be sure to follow us on Instagram as we'll be doing some fun Q&A's with some Instagram Live videos.
GET YOUR GEEK ON! LEARN ABOUT YOUR DOG
So, you have more time on your hands but you can't go outside as much, so what can you do? Well, why not use this time to learn more about your dog. There are lots of courses which you can complete online and videos to watch which might help you gain a deeper understanding of your dog's behaviour. You might even get on the road to a new career when all of this is over!
From dog body language, training and tricks, there are plenty of possibilities. Search for Facebook Groups with daily challenges etc. too to see what you can learn for (and about) your dog. Think of all the benefits you might be able to bring to your dog at home. You'll also have time to put some of your learning into practice.
Maybe you'd like to learn more about herbal pet care? All of our past Facebook Live videos are available on our Facebook Page. They're each 30 minutes in duration and contain a tonne of information on topics such as skincare, gut health and so much more. Grab a cup of tea and see what you can learn for your dog. Prefer to read? Our website has lots of interesting and informative blog posts to read too.
CHILDREN AT HOME? FIND OUT WHAT LESSONS YOUR DOG CAN TEACH THEM
No, we're not saying your dog will suddenly become a teacher! But actually, dogs can be a great teaching source for children. Some of your children may already be involved with the care of your dog but if not, this could be a great opportunity to get them involved. For example, teaching them fun facts e.g. how much water does a dog drink each day? An activity could involve the children becoming responsible for changing your dog's water bowl twice a day.
Reading to dogs is becoming a very popular practice at some schools and can be a great way to have fun at home with your dog too. Why not ask your child to read to your dog? This will be great for your children and your dog will enjoy being in their company.
FUN THINGS TO DO WITH YOUR DOG AT HOME
Both you and your dog may feel a little restricted being at home so much. But there are several activities you can do together to pass the time, from home agility to brain games.
MAKE A WISH LIST
We're unable to do all the things we want to do at the moment, but this shouldn't stop you from looking to the future. Try compiling a wish list for things you'd like to do and places you'd like to visit with your dog. Get searching on the Internet and plot some fun at home with your dog (or even further away).
For example, maybe you've always wanted to join a local dog club, or try a new activity like Canicross. You might have even considered showing your dog at local or national competitions. Maybe you'd like to visit a dog-friendly restaurant? Or take a dog-friendly holiday?
Create a vision board for all the things you're going to do together when this situation passes. It can be a fun activity in itself and helps you to look ahead to the future. Plus your dog will love all the fun things you're going do together when you're able to.
WORKING FROM HOME – TIPS
If you're now working from home, your dog may well be your new co-worker for the foreseeable future. While your dog will think all their dreams have come true, it might be helpful to have some boundaries in place, so you can actually get some work done!
Try to stick to your usual morning and evening routine (e.g. dog being fed, let out to the loo, exercise etc). Dogs like a routine, so keeping to one will be helpful to them (and you in the long-run too).
If you have a dog who barks at the postman, be sure not to schedule any video or phone calls when they normally arrive! Instead, notice when your dog rests the most (e.g. after exercise or after some brain games) and ensure you schedule important calls during those times instead.
Also, ensure your dog has the opportunity for their regular loo breaks. You may be so engrossed in your work, you might forget to let your dog out! Avoid any accidents by popping an alarm on your phone for several times through the day. Your dog (and your flooring) will be grateful.
WALK IT OFF
As of the date of this blog post, the current government guidelines state taking some fresh air with your dog is allowed, as long as you avoid crowds and ensure social distancing of at least 2m apart. So embrace this opportunity but adhere to the rules.
Allowing your dog sometime in the fresh air not only benefits them but is likely to benefit you too. With Spring weather right around the corner, the weather is perfect for walks. To ensure your dog's safety as well as yours make sure you watch out for springtime hazards.
Large meetups with friends have to be on pause for now but enjoy the quality time you'll get from some one-to-one with your dog. A great opportunity to bond and even build on some training too!
LET YOUR DOG SUPPORT YOU
Finally, during these difficult times, your dog can be an even more important companion. Did you know it's been proven dogs can help with your mental health? Stroking your dog helps to release oxytocin (the happy hormone) and relieve stress. If you're finding life tougher than usual, make the most of having your four-legged friend by your side. Take some deep breaths and gently stroke your dog to help you feel calm.
During the lockdown, try to find the fun at home with your dog too. Let them make you laugh with their funny antics and appreciate all the ways they make you smile.
WE'RE HERE FOR YOU TOO
Remember, Dorwest Herbs are here for you during this time too. You can phone our phone line or interact with us on our social media channels. We're all in this together! Let us know if you'll be trying any of our top tips for fun things to do with your dog at home over the coming weeks. We'd love to see what you're up to.
Dorwest Herbs are experts in herbal pet care and have been helping dogs meet their health and nutritional needs for almost 70 years. To find out more about our herbal supplements for dogs, speak to one of our experienced advisors on 01308 897272 or use our contact form. Plus, get free UK delivery on orders over £50.
Please remember, you should always consult a vet if you are concerned about your pet's health.
Don't forget you can get free delivery on your next order if you sign up to our mailing list!