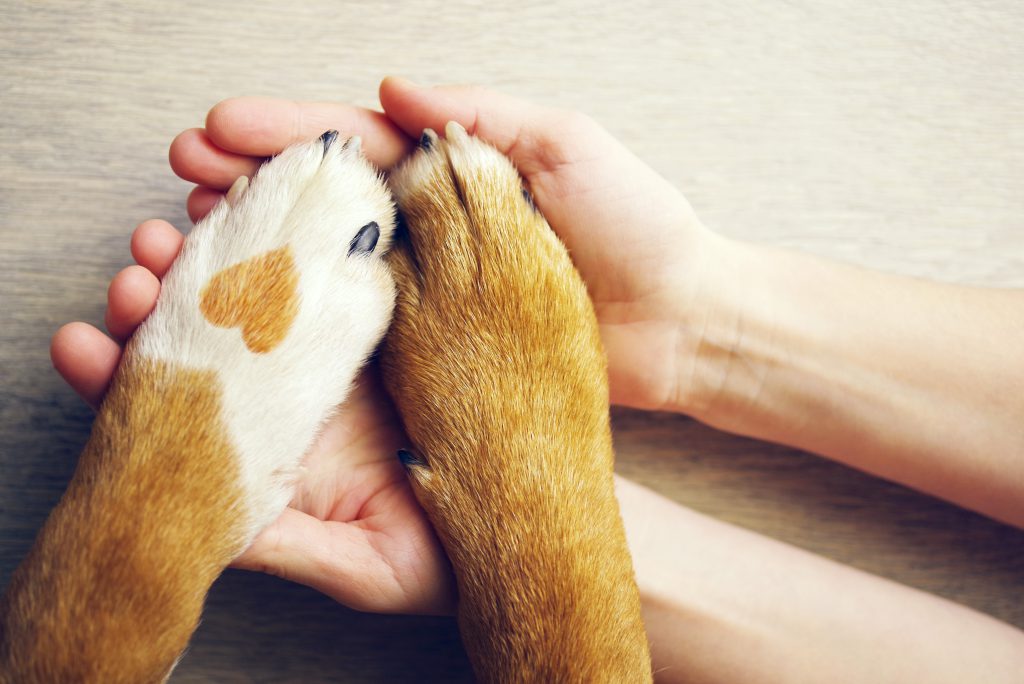 Helping improve the lives of dogs is at the heart of what drives the team at Dorwest. But did you know dogs are actually able to help improve the lives of humans in a variety of ways too? We all know our dogs are amazing companions, regularly turning frowns upside down, but some dogs also help target specific issues too. These range from reducing stress to improving mental health and assisting those with physical disabilities. There are plenty of health benefits of dogs, so let's celebrate them with a round-up of some of the best!
Benefits of touch
There are a whole range of benefits from stroking a dog. Touch can increase the levels of the hormone oxytocin, known as the love hormone, which release feelings of trust and attachment. Stroking our dogs can also help decrease cortisol levels, known as the stress hormone.
It's these type of benefits which is why the charity, Pets as Therapy, help bring PAT dogs to thousands of people across the UK each year. An array of volunteers and their dogs visit people of all ages at hospices, schools, residential homes and many more. The results of these visits can be quite astounding! From boosting the mood of residents to even increasing levels of communication. Those with conditions such as Strokes and Dementia often benefit from such visits as part of their holistic treatment too.
Some dogs even help with a special programme known as the Read2Dogs scheme which aims to improve literacy among children. Having dogs to read to increases the levels of confidence and enjoyment of reading by children. Dogs really do make the best supporters and cheerleaders!
Improving Mobility and Independence
One of the most recognised health benefits of dogs is experienced by those who have been partnered with expertly trained assistance dogs. What benefits do the dogs bring? Well, they help re-establish independence and increase confidence by partnering with their handler to complete specific tasks.
One of the most well-known types of assistance dog are Guide Dogs. Established in 1931, Guide Dogs have helped transform the lives of over 29,000 blind or partially sighted people. Incredible! Guide Dogs enable their partner to undertake normal day-to-day tasks such as travelling to work or simply living life to the full. Normally, many may feel unable to leave the house and move around without fear of hurting themselves. Having a Guide Dog can improve confidence and minimise such things from happening. Moving around with the support of their dog benefits physical health but also mental health, as feelings of isolation are reduced.
Another type of assistance dog are those trained by the charity, Dogs for Good. These dogs help humans in a variety of ways by performing certain everyday tasks which, due to a physical disability, some may be unable to do. Examples include opening and closing doors, removing / loading washing from the washing machine and even retrieving items like the phone! Both adults AND children benefit from these astounding dogs. All of these tasks improve overall independence. Autism Assistance Dogs for children are also trained which transform daily life, not only for the recipient, but their families too.
Hearing Dogs for Deaf People was established in 1982 and as with the charities above, these dogs really do have such an important role to play in improving the lives of humans. Dealing with limited hearing or being unable to hear at all can lead to feelings of isolation. By having a dog who can hear on your behalf and alert you can only bring positive benefits. For example, alerting their humans to the doorbell ringing. They've also been known to actually save lives by alerting to alarm bells too! Life changers AND life savers.
Mental Health Improvements
Mental health improvements attributed to dogs are more than evident. One example is via the charity, Veterans with Dogs. They utilise the bond with dogs to help those dealing with PTSD (Post Traumatic Stress Disorder). Anxiety, panic attacks and flashbacks are sadly common occurrences, but dogs can help in a variety of ways. For example, by helping to 'ground' their humans or even physically remove them when signs of a flash back are apparent.
Something which can be problematic when dealing with mental health issues is a reduced sense of purpose. Dogs are able to help reconnect with this! A dog means a human must physically get out of bed to feed their dog, walk them etc. Just getting some exercise with your dog can make an impact on low mood. Plus there's always an opportunity to interact with other dog walkers, when under normal circumstances you may not interact with anyone. Having this responsibility can make all the difference.
Health Benefits of Dogs
Well aren't we lucky to have so many dogs helping us? It's certainly clear to see the health benefits of dogs. It's great they're able to look after us, as we looking after them.
How does your dog help you? We'd love to know…