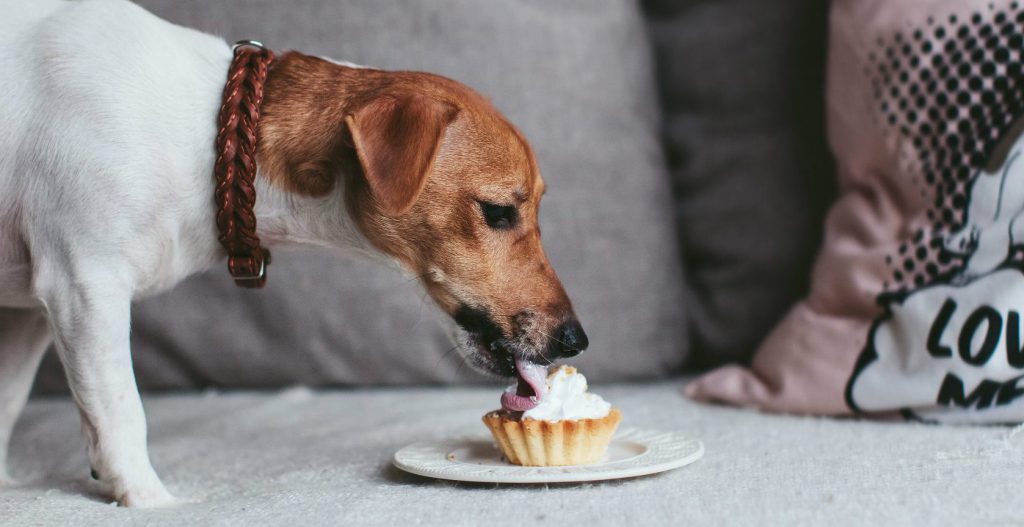 ---
What do dogs absolutely love? Treats of course! So have you ever considered making your own homemade dog treats? If you haven't, hopefully this blog post will show you how great it can be and maybe even inspire you to try! If you have baked for your lucky dog before, then you may want to give some of these recipes a try…
So what can you expect? Well we have a recipe, which you can easily adapt, for some scrumptious frozen homemade dog treats! Five potential twists on the recipe in one! Not only will it potentially tantalise the taste buds of your four-legged friend but it could also help cool them down over the warm summer months. If you're unlikely to be seen on the next series of Masterchef, it's also so simple to make (even better!)
We also have some more traditional type of homemade dog treats for your dog to get their teeth stuck into as well! So what are you waiting for? Come and explore why making your own homemade dog treats could be a great thing to do. Don those aprons, grab your blender and feast upon some delicious goodies below…
HOMEMADE DOG TREATS – FUN FOR ALL THE FAMILY!
Making your own dog treats is great for so many reasons. Firstly, you know exactly which ingredients your dog is digesting. This can be particularly important for dogs with allergies or if you're trying to maintain a good weight for your dog and need to count those calories! Both of the recipes we're sharing with you are both dairy-free and grain-free and the amount of calories can be adapted. There's also a great opportunity to add some extra vitamins to your dog's diet when you make the treats yourself. Not all human-grade ingredients are safe for dogs though, so always ensure you check online if you're creating your own recipes.
If you enjoy baking and experimenting in the kitchen, baking homemade dog treats can also be a lot of fun! Making treats like these could be ideal for keeping family members (or yourself) entertained during the school holidays or rainy weekends. Thirdly, your dog is bound to be extremely grateful for your efforts. Your dog will definitely award you with a Michelin Star (well, in their own sweet way!)
SHOPPING LIST FOR FROZEN WATERMELON WONDER! (FIVE RECIPES IN ONE)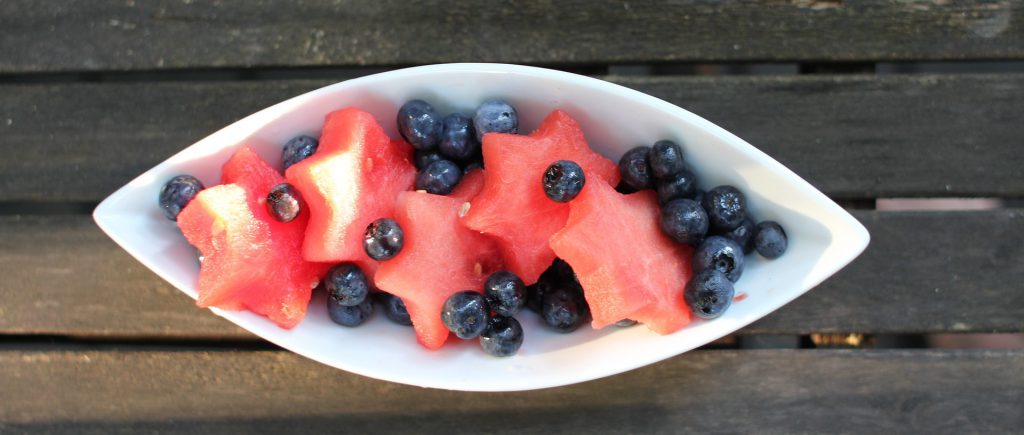 ---
Half/One Watermelon (depending on the size of dog & how many you intend to make – Must remove the rind and the pips)
Handful of strawberries (optional)
Handful of blueberries (optional)
One cup of Coconut Milk OR Coconut Water OR Plain Water
Silicone mould of your choice!
HOW DO I MAKE IT?
Dice the watermelon into small cubes, removing the rind fully AND the pips as you go. Whilst not poisonous like some fruit pips, they can lead to an upset tummy, so it's strongly advised!
Once done, add the watermelon to a blender and blend until it becomes a liquid. If you'd prefer your iced treat to have more texture, leave a few smallish lumps. Then simply add either the coconut milk or coconut water (for a more tropical taste for your dog!)Or simply add plain water.
Then mix together and pour into either an ice cube tray or a silicone mould and leave to fully freeze for approximately 3 hours (depending on the size of the mould). There are so many fun shaped moulds to choose from online. From bone-shaped to flower-shaped, the choice is yours! Obviously the larger the mould, the longer the treat should last. It's important to be aware of any choking potential though, so do ensure the treat is sized appropriately for the size of your dog and monitor your dog while they enjoy their iced treat!
Fancy trying other flavours? Why not add a handful of strawberries or blueberries to the watermelon mix. They are fantastic providers of antioxidants and vitamin C. You can then mix and match the recipes and your dog can then choose which flavour they like the best! It could make a great enrichment game!
SHOPPING LIST FOR 8 GRAIN-FREE CUPCAKES!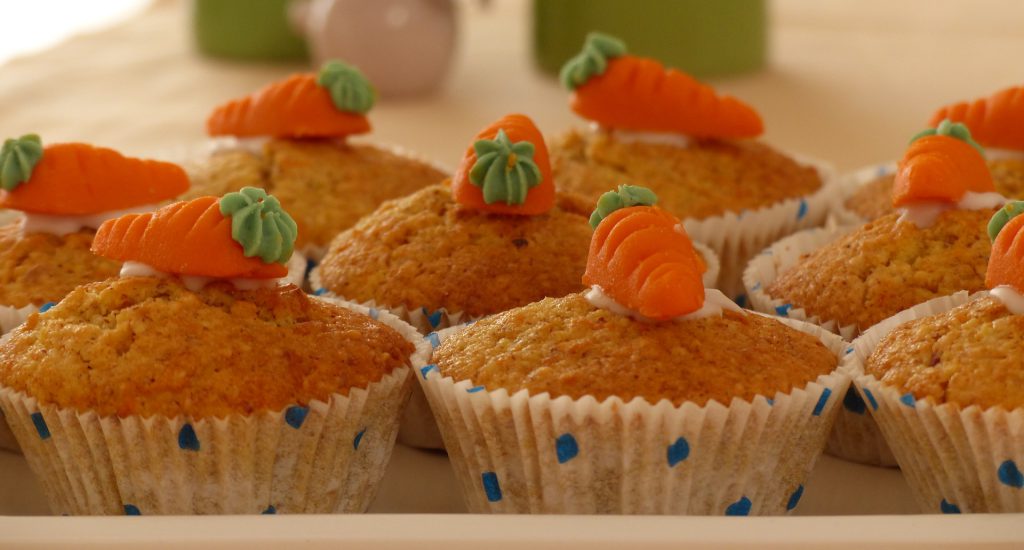 ---
x 4 tsps of smooth peanut butter (check ingredients – must NOT include sweeteners (xylitol) which is toxic for dogs)
1 ripe banana
1 carrot (shredded)
2 medium eggs
1 tsp of baking powder
8 cupcake holders
HOW DO I MAKE IT?
Add all the ingredients into a bowl and whisk together until you create a smooth paste-like consistency (with the exception of the carrot which will provide some yummy texture!) Then spoon the mixed ingredients into the cupcake holders within a baking tray. TIP:Fill approximately halfway within the cupcake holder to prevent it overspilling when it bakes.
Then pop into the oven at 180°C (or 160°C for a fan oven) and bake for approximately 20 minutes. Once baked, leave to cool as we don't want there to be any burnt tongues! If you want to really treat your dog, add a small amount of peanut butter for frosting as this helps make it moist and extra scrumptious!
WHY ARE THESE RECIPES GOOD?
Both of these recipes are dairy-free and grain-free, so could be ideal for most dogs, particularly those with allergies. The great thing about both of these recipes is that you may already have a number of these items at home. For example, you might be planning a family barbecue, so why not set aside some of the fruit for your fruit salad and try and make some of these treats for your dog. You won't need to feel guilty when those puppy dog eyes look at you either, which they inevitably will!
COOKING UP A STORM!
Hopefully you'll try making some of the homemade dog treats we've suggested. We'd love to see the outcome so please share them on social media & tag us at #Dorwest. Happy eating in the meantime!
*IMPORTANT TIPS: When feeding your dog any treats (particularly new treats) it is always recommended to feed in moderation, so your dog's tummy can get used to it. Always ensure your dog has access to fresh drinking water afterwards too as it can be thirsty work enjoying yummy treats! Please do bear this in mind.
---
Find out more about Dorwest Herbs and our herbal remedies for dogs to improve their general health. If you have any questions about the best ways to ensure your dog gets the best diet, one of our experienced advisors would be happy to help. Please get in touch on 01308 897272 or use our contact form. Plus, get free UK delivery on orders over £50.
Please remember, you should always consult a vet if you are concerned about your pet's health.