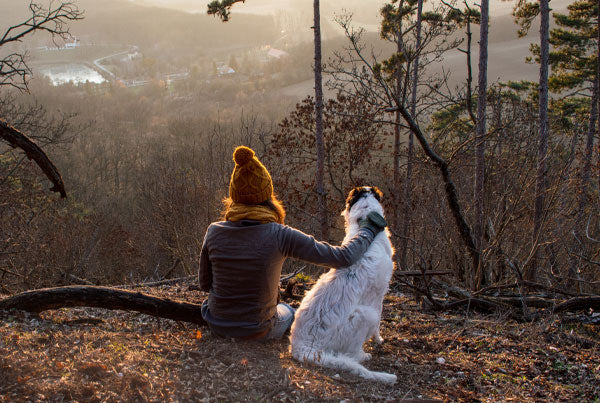 ---
Obviously, you love your dog every day (even if they've been naughty), but did you know February 20th is National Love Your Pet Day? What a great excuse to reflect on all the joys our dogs bring into our lives. To celebrate this special day, we thought we'd explore just a few of the many reasons to love dogs. Not to mention, we'd love to hear why you love your four-legged friends too! Take a look below as we share some ideas and inspirations for ways you could celebrate with your dog…
COMPANIONSHIP
The companionship our pets provide is one of the biggest reasons to love dogs. Through the good times and bad, those little heartbeats at our feet can make all the difference in our lives. This has never been truer than during lockdown over the past year when so many of us have felt lonely.
The description of dogs as 'four-legged friends' has never been more apt. For some, dogs have become the single source of interaction in their lives. This companionship can feel crucial as dogs provide us with an opportunity to show and feel unconditional love. To feel needed. To have purpose. To have routine. These are some of the things that so many of us have had limited in our usual day-to-day lives due to Covid19. Thanks to the companionship of our dogs, this has meant part of those aspects of our lives can continue, even during a pandemic.
Dogs also have the ability to make us smile and laugh through their companionship. Whether it's through their zoomies from room-to-room or when they come to you for affection, all of these actions can also have an impact on reducing stress and anxiety. And, in turn, this makes you feel good! At Dorwest Herbs, we love to give back to our companions, which is why we have been developing nutritional supplements for pets for over 70 years. Our nutritious pet supplements are not only just a treat on national love your pet day but also keep your pet feeling good all year round.
What we'd like to know is, how has your dog's companionship helped you?
KEEPING US FIT & HEALTHY
Some days, many of us won't feel like doing any exercise. Staying snuggled on the sofa to watch TV can feel very tempting, especially on a cold, rainy day. Having a dog in your life means taking part in daily exercise, even if you don't feel like it. You may not think this is a reason to love dogs but going on your daily dog walk has plenty of benefits for you, as well as your dog. Walking can be great for releasing endorphins and giving us an opportunity for some fresh air. It also allows us to take a moment to step away from the screens, which we're all glued to more than ever before.
Some pet parents even take this a step further by transforming their daily dog walk into a daily dog run! Looking for tips on how to make this happen? Discover our top tips at Dorwest Herbs to start running with your dog. Dogs can make fantastic exercise companions (and they may just be the best support cheerleaders too!) Time to dust off those trainers in the corner first…
Walking your dog is an excellent excuse to explore new areas. Regardless of if it's close to home or further afield, there are so many hidden gems to find when walking your dog. It can also be fun plotting and planning some new routes to explore with one another. If you find your dog struggles with joint pain and this impacts their ability to go on long walks, why not try natural pet supplements? Our Dorwest Herbs joint care for dogs help aid mobility and relieve symptoms of arthritis. Browse the selection on our website to find the perfect product for your pooch!
When we're allowed to do so, where would you like to explore with your dog? Which areas are on your wish list?
MAKING NEW FRIENDS
When you're out on your daily dog walk, do you find yourself saying hello to fellow dog walkers? Of course! Dogs love to meet and greet their pals. Thanks to them, humans have an opportunity to do the same and make new friends too. Having a dog in your life provides lots of opportunities to interact with new people over a common interest and make new friends. You can even take part in fun new activities (when we're not in lockdown though). Some of these include:
• Puppy training classes
• Dog agility
• Dog showing (either professionally or for fun)
• Joining local dog-walking groups
• Sharing your dog's antics on social media can be a fun way to meet fellow dog parents online
• Or even trying a new sport like Canicross
Has your dog led you to meet new friends? At Dorwest Herbs we would love to hear your stories!
IMPROVING LIVES THROUGH SPECIALIST SUPPORT
As well as brightening up our days at home, some dogs also take on some rather important jobs too! Dogs can bring about such positive change and influence due to their actions and incredible natural instincts. Just some of their jobs include:
• Working hard in the emergency services to save lives and bring justice (police dogs, fire dogs, etc.)
• Specialist therapy dogs such as those at PATS, Canine Partners, and Dogs for Good. These dogs provide great extra comfort to those most in need, such as in hospitals and hospices. Others are specially trained to complete tasks on behalf of their pet parent at home. This could be collecting washing, bringing items and more.
• Medical Detection Dogs put their incredible noses to great work. They sniff out all sorts of things such as cancer and potential seizures in humans. They are also working hard to conquer Covid19 too. Completely inspiring.
HOW WILL YOU CELEBRATE LOVE YOUR PET DAY?
As pet lovers ourselves, we know there are endless reasons to love dogs, but how do you show your love to your dog? If you're looking to make National Love Your Pet Day extra special, here are some suggestions for you:
• Give your dog a soothing bath with products you can trust. As well as nutritional supplements for pets, we provide high-quality dog shampoos, including our popular Soothe & Calm shampoo. Our dog shampoos are natural and calm on their skin and will leave them feeling and smelling fresher than ever!
• Try a different route for your dog walk (within government guidelines). This gives your dog the opportunity to sniff out some new interesting smells. Let them take their time to sniff around a bit more than usual too – it's like reading the local news for them & they love it.
• Consider baking your dog their favourite homemade treat. We have a delicious pancake recipe for dogs you'll be sure to want to try!
• What games does your dog like to play? Spending some extra time with your dog and being present with them is likely to be the ultimate gift for your dog. They love attention and when the focus is on them. Treating them to extra quality time together will keep that tail wagging a little longer.
• Another foolproof idea is to give them their favourite doggy treats! These could be leftover festive dog treats or a particular dog biscuit they love. Just be sure not to let them overindulge.
NATIONAL LOVE YOUR PET DAY – WHY DO YOU LOVE YOURS?
Dogs certainly know how to bring the feel-good factor into so many lives. Aren't we lucky?
There are so many reasons to love dogs, we didn't have room to include them all. So fill us in! Why do you love your pooch? Pop a comment below or comment on our social media posts and share your stories. We'd love to know how you're going to spoil your dog on National Love Your Pet Day. Let us know…
---
At Dorwest Herbs we have created a range of herbal pet care to treat all sorts of common conditions. These range anywhere from joint care for dogs to digestive tablets and more. If you need advice on which pet supplements are best for your pet, contact us and we will be happy to help. Give us a call on +44 (0) 1308 897 272 or email info@dorwest.com.