A defibrillator will be available at all-breed Championship Shows on the Dorwest stand thanks to The Kennel Club.
At Crufts 2018, thanks to the Kennel Club and Mikaela Short, we were given lifesaving equipment to take with us to all Championship Shows.
The Kennel Club purchased a defibrillator which is a device that gives high energy electric shocks to the heart to someone who is in cardiac arrest. This high energy shock is called a defibrillation and it is an essential lifesaving step in the chain of survival.
As we attend all major championship shows, the Automated External Defibrillator Plus (AED Plus) will be kept on the Dorwest stand and Kyle Cadmore, our Trade Stand Manager has undergone training and is working with Mikaela Short to offer this training to other exhibitors, judges and stewards alike in the near future in case an event occurs were it must be used. The AED Plus was purchased in response to a cardiac arrest that occurred at the Blackpool Championship Show last year.
We are pleased to be able to help by keeping this essential piece of equipment on the Dorwest Stand, to offer all those involved in the dog show world the best chance of survival should it ever need to be used.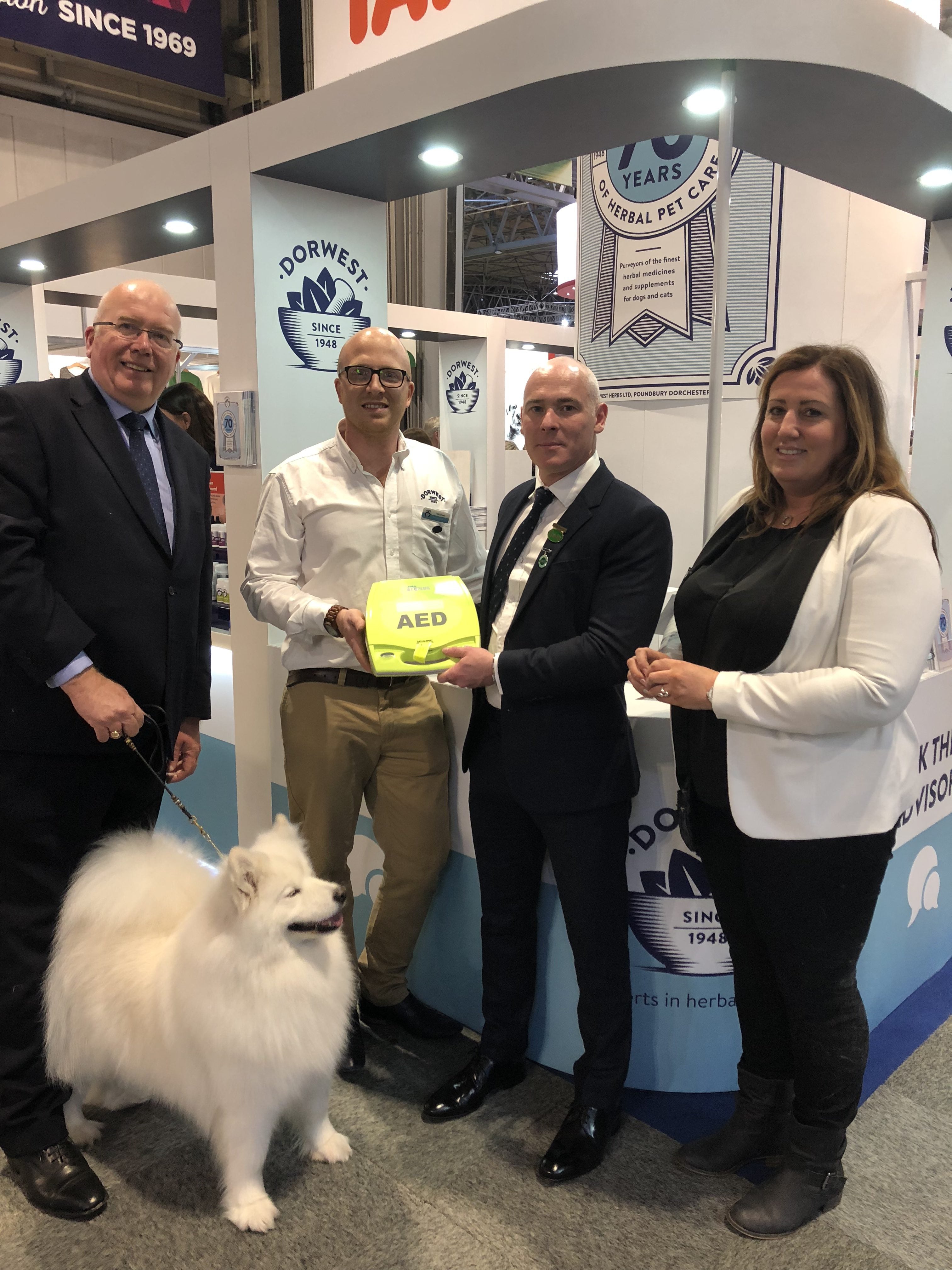 Adrian Waller, Zoll; Kyle Cadmore, Trade Stand Manager; Dr Ian Gabriel, The Kennel Club; Mikaela Short, Samoyed Exhibitor & Customer service supervisor at Zoll.
The Kennel Club kindly funded an AED Pus defibrillator and Mikaela Short, ZOLL UK's Customer Service Supervisor and Adrian Waller presented the equipment to Kennel Club's Dr Ian Gabriel and Dorwest Trade Stand Manager Kyle Cadmore, while they were exhibiting at Crufts this year at the NEC in Birmingham.
If you would like more information or want to undergo training in the use of the defibrillator, please contact Kyle Cadmore at kyle@dorwest.com
Dorwest Herbs was founded in 1948, providing over 70 years specialist experience in companion animals and herbs to its customers. A third generation family business located in rural West Dorset, Dorwest are passionate about keeping dogs and cats healthy and happy by using pharmaceutical quality herbal supplements and licensed herbal medicines. With dedicated, experienced and trained staff with a real interest in companion animals, Dorwest is the renowned market leader and a worldwide brand available in over 20 countries outside the UK.