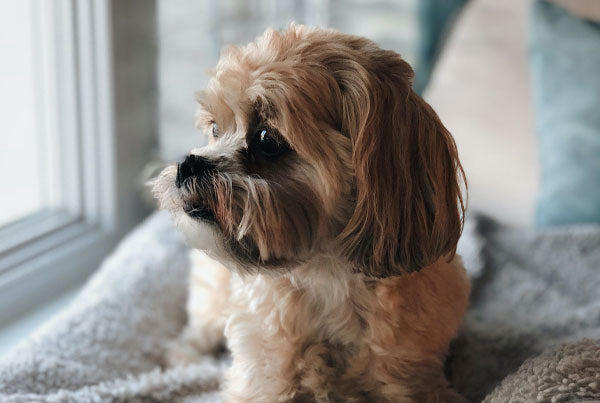 ---
As we're navigating through the upcoming easing of lockdown restrictions and life begins to open up, it's time to consider how ours and our dogs' lives might be about to change.
Not only has the past year brought many changes in routine for us humans, but there's also been a lot of adapting required by our dogs. Whether you've been at home more or you've just been restricted in meeting up with dog or human friends, your dog's daily social encounters will have changed dramatically.
For older dogs who were used to social experiences, they may well have felt some frustration when they've been unable to greet other dogs or people when you see them on walks. For younger puppies, their whole social education may have been hindered as you've been unable to help them form positive relationships with your friends and family, or other dogs. We've also been limited in the places we've visited and you may well have left your car on the driveway for most of the year.
So, as we re-open up our world, how can we best support our dogs through the upcoming changes?
---
Welcoming Guests into Your Garden or Home
Whether you have an adult dog or a younger puppy or adolescent, we want to treat encounters with guests in your garden (and eventually home) as if this is a brand new experience for them. Ask guests to give your dog space and the choice to approach or not. Have a pot of treats ready by your back gate or front door and ask your visitors to throw some of these towards your dog as they enter your garden or house. Make sure your dog has a safe space to retreat to if they're feeling overwhelmed and keep visits short in the early days.
---
Exploring New Walks
You're probably feeling very excited about the prospect of exploring different walks, after the 'stay local' restrictions are eased. Just remember, beauty spots are going to be incredibly busy and if your dog is less comfortable with large numbers of people or dogs, it's best to avoid these places initially. Try to keep some of your routine walks in place, to help your dog have a sense of familiarity for at least some parts of their week.
---
Car Travel
Visiting new walks or family and friends might also mean you'll be using your car a lot more. If your dog hasn't been in the car much over the past year – or it's a pretty new experience for your puppy – then build up the length of journeys slowly. Between the times when you need to use your car, pop your dog in there just to have a treat or enjoy a chew. Try to avoid using the car every day to transport your dog if they're not used to it. Make sure they're safe by using a crash-tested harness or crate to keep them secure.
---
Pubs and Cafes
Combining our new walking adventures with a drink or meal at a dog-friendly pub or cafe sounds a wonderful way to celebrate the easing restrictions. However, be mindful of how much stimulus a pub or cafe might provide your dog with – lots of people and noise, perhaps other dogs, and the temptation of food! If you have a young puppy, teaching them to settle on a mat that you can transport with you to the venue is a great way to build up a relaxed response to hanging out in a pub garden. And plan for the worst case scenario – expect just to have one drink (that you're happy to leave if your dog appears stressed) and then if they're relaxed, it's just an added bonus to be able to stay for a meal too.
---
Home Alone Time
Our dogs have been so used to human companionship over the past year. You may not have left them more than the time it takes to do your weekly shop – if at all! It's important we build up alone time slowly and positively, ensuring your dog feels safe and secure when home alone. Start by building up the time you can spend in another room from your dog, then slowly the time outside of your home. Invest in a pet camera so you can monitor your dog's response to being left alone. If you see any signs that they're stressed, return to them immediately. If your dog is getting very anxious when left alone, seek out the guidance of a force-free behaviourist.
While we're building up the duration that your dog can cope when left alone, Dorwest Skullcap & Valerian Tablets can help them to naturally relax. It's important that any supplements we use allow our dogs to learn effectively without sedating them. Our Skullcap & Valerian Tablets aids in calming your dog naturally – reducing anxiety so they are able to build up a good emotional response during the training you will be doing to slowly introduce your dog to positive solo time.
Written by Caroline Wilkinson – Certified animal behaviourist and dog trainer (founder of Barket Place)
---
At Dorwest Herbs, we offer a broad range of herbal pet care for dogs to support their health. Alongside our Dorwest Keepers Mix® Sensitive, we can also recommend the most suitable puppy food supplements. Browse our best-selling products online and get in touch with us on email info@dorwest.com or by calling +44 (0) 1308 897 27.