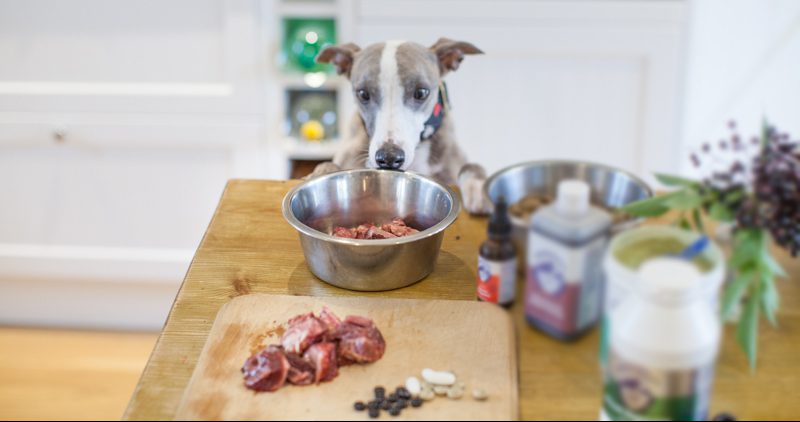 Natural herbal supplements for dogs help to improve their health; by boosting their diet you can ensure they are getting all the nutrition they need. Not sure where to start? Here's our top 5 best natural supplements for dogs and why we recommend them for regular use:
1. Keeper's Mix
Keeper's Mix for Dogs is our best-selling dietary supplement for dogs. This dog supplement supports your dog's health on the whole. It contains 8 herbs: kelp seaweed, celery seeds, Lucerne (alfalfa), nettles, rosemary, psyllium husks, clivers and wild yam, and there are no other ingredients. Keeper's Mix supports their organs, helps to maintain the body's natural balance and promotes a thick, healthy coat. We particularly recommend this product to working dogs or very active dogs as herbal remedies for dogs will give them that boost they need.
2. Turmeric Tablets
Turmeric for dogs has recently surged in popularity due to it being thought to have many health benefits, with the main one being its ability to support the body's natural anti-inflammatory processes for dogs. This is especially beneficial for dogs that have stiff joints or arthritis pain, as there are several studies on the potential benefits of turmeric for dogs, including a number highlighting the pain-relieving properties. Before you give your dog turmeric, there are 5 things you should know.
3. Omega Star for dogs
Omega Star For Dogs is one of our favourite products; made with high levels of omega 3 & 6 for dogs, this source of vitamin e will help your dog's coat and skin. It contains UK-sourced nutritious oils from plant origin; pure, refined flax seed oil, borage seed oil, blackcurrant seed oil and natural vitamin E for dogs. Omega 3 fatty acids for dogs help thin coats by encouraging coat growth, improving the skins moisture barrier and restoring your dog's shiny coat. Omega Star For Dogs is also excellent for improving dandruff and reducing shedding.
4. Tree Barks Powder
Digestive and intestinal disorders often occur without reason and this affects many dogs. If something like this occurs, we recommend taking Tree Barks Powder for Dogs as it contains slippery elm, which helps to soothe the digestive tract, slow the passage of food and firm up stools. Ensure you are prepared for any sudden bouts of a poorly tummy with this dog diarrhoea supplement; it's highly digestive and low in fat.
5. Scullcap & Valerian Tablets
It's not uncommon for dogs to experience phobias or anxiety at some point; it can be travel-related, a fear of fireworks or loud noises, or a trip to the vet. Just like how we need some liquid luck when we feel nervous, your dog can have a go-to calming method too! Scullcap & Valerian Tablets For Dogs will relax your dog without causing any drowsiness. This source of Valerian for dogs doesn't only calm them, but it improves concentration, so we recommend the use of this natural herbal supplement for dogs when showing or taking part in an agility contest.
Find out more about how herbal supplements can help your dog by getting in touch with our friendly team on 01308 897 272 or shop our range of herbal pet care online. Receive free UK delivery on orders over £50.
Please remember, you should always consult a vet if you are concerned about your pet's health.