---
As the temperature starts to drop and the leaves fall from the trees, a common question often starts to pop up for pet parents: "should my dog wear a coat?" Whilst many dogs in winter have all protection they need from their own fur coats, there are times when some dogs may need an extra helping hand to brave the changing seasons. If you're unsure, read on, as we'll set out 3 reasons when and why you might want to consider a coat for your dog in winter…
---
SHOULD MY DOG WEAR A COAT IN WINTER?
REASON ONE – DOG BREED
Dogs come in all different shapes and sizes and some may be more susceptible to the cold weather than others. The height of your dog can be an important consideration for some breeds. For example, those which are lower to the ground, such a Dachshunds, may come into more direct contact with the cold, rain, sleet, and snow. An additional barrier between them and the cold ground can be a welcomed addition. That being said, it's not only smaller dogs in winter who may need help keeping the chill at bay. Larger dogs can also feel the cold too…
The reason why dogs of all shapes and sizes can potentially feel the cold is on account of their fur type. This tends to be the biggest consideration when deciding whether your dog may need a winter coat. Some dog breeds are fortunate to have lusciously thick natural coats which helps protect them from the wintery elements. Huskies, for example, are particularly hardy during the colder months. Dogs with short-layered coats such as Whippets or Greyhounds are less lucky and can be far more sensitive to the cool air. Winter for dogs of these breeds can be harsher and therefore benefit from an extra coat or jumper.
No matter their breed, always be mindful if your dog is finding the colder weather an issue. For more tips to support your dog in winter and help to spot the signs of cold, read on…
---
REASON TWO – AGE
Puppies and older dogs both tend to feel the cold a lot more, just like humans. A lot of this is on account of their body fat and general development. Puppies are still growing so are not developed enough and older dogs tend to lose body fat as they age. In both cases, they're less likely to be naturally protected by their bodies. This makes both age ranges more susceptible to cooler weather. As a result, if you are asking yourself "should my dog wear a coat in winter?", the answer is likely to be yes. A winter coat or jumper will help them retain their heat and protect them from the cold air.
If you're still unsure if your dog may need a little extra support, the good news is it can be pretty easy to spot. Dogs show they're cold in a similar way to us humans. Common tell-tale signs include:
Fur standing on end
Shivering
They may adopt a hunched body position
Looking for some extra support to help your puppy grow strong and healthy? We specialize in herbal remedies for dogs made with only natural ingredients. In particular, for puppies, adding dog supplements to their routine can be a great natural boost to their immune systems. And our herbal pet care products don't stop there. We also have products that are ideal for older dogs that are just as fragile. These include herbal joint care for dogs which you can browse on our website. For additional tips on how to care for an older dog, take a peek at another of our blog posts.
---
REASON THREE – HEALTH
Another reason why your dog may need a winter coat is on account of their all-around health. If your dog is recovering from an illness or operation, they may feel the cold much more compared to normal. Because of this, they may benefit from some added protection whilst they recover.
If you're unsure, always check with your veterinary professionals. They will be able to provide further advice on whether the cold could affect your dog in winter.
---
HAVE YOU DECIDED YOUR DOG MAY NEED A WINTER COAT?
If your answer is "yes" here are some extra tips to ensure your dog has a positive experience: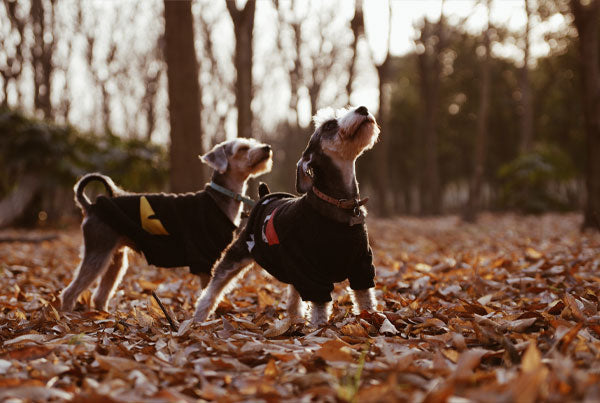 Ensure the coat fits right. If you've ever worn clothing which is either too big or too small, you'll know just how uncomfortable it can be. Wherever you buy your dog's coat from, follow their advice for measuring your dog as some styles of clothing can fit differently.
Ensure your dog can move comfortably. Any clothing your dog wears should enable your dog to continue moving in their natural way. They may walk a little strange at first, while they adjust to their new item of clothing. But make sure this is only in the short term. If it's not, it may indicate the clothing doesn't fit well or is uncomfortable.
Make regular checks your dog for any skin reactions. Hopefully, if you've done your measurements right, this shouldn't be an issue, but it's important to check your dog's skin isn't reacting negatively to the new garments. This could include rubbing between their legs or reacting to any products you use to wash your dog's coats and jumpers. If your dog gets dry skin in winter it can be very distressing and can even cause infections which would not be a positive outcome.

Not to worry though, if this problem has occurred, there are some things you can do to relieve their irritation. Why not try some of our supplements for dogs formulated especially to relieve itchy skin? We have herbal remedies for dogs such as our Sooth & Calm Shampoo or Garlic & Fenugreek tablets which can help combat this.
Your dog's weight might have changed since they last wore a coat too. Its best to check on a regular basis to see if it still fits. This is important to remember if you use them each year.
Some dogs may be very nervous of winter clothing. Use positive reinforcement e.g. with treats and general encouragement. Also consider letting your dog acclimatise to their new item of clothing over shorter periods before setting off on a long walk. The aim is to always ensure their new clothing is a positive experience for them.
---
OTHER WAYS TO HELP YOUR DOG IN WINTER…
Even if you've concluded your dog doesn't need a winter coat, there are still other ways you can support them over the colder months…
Avoid walking in the coldest parts of the day.
Consider regular shorter walks rather than one long walk.
Regardless of their own fur coat, be mindful winter weather can still impact even the hardiest of dogs.
Keep an eye on paws which can become sore. The best thing to use is a paw balm to soothe this. Our Paw and Nose Balm can be a helpful addition for cracked paws. This nourishes sore noses and pads and has no added fragrances. Made with natural beeswax and rich shea butter, our paw and nose balm are great to keep on hand.
Consider making some extra blankets available to them around the house. Some dogs in winter like to burrow and this is particularly appealing if they're feeling a little chilly.
Garlic & Fenugreek Tablets For Dogs
Naturally supports all-round health, stimulate a strong immune system and promote healthy skin
FROM: £10.00

Soothe & Calm Shampoo
A naturally soothing shampoo for sensitive skins containing oatmeal and lavender
FROM: £8.90

Paw & Nose Balm - 50ml
Moisturises and nourishes crusty noses and cracked pads. Handcrafted with UK grown herbs and is lick-safe!
£12.50

---
Natural herbal remedies for dogs all year round
You'll hopefully now have the answers so you no longer need to ask yourself "should my dog wear a coat?" this winter. But if you need some extra advice, feel free to get in touch! With over 70 years' experience in formulating herbal remedies for dogs, we have a wealth of knowledge to share. If you would like recommendations on our herbal supplements for dogs or have a general enquiry, our experts are here to help.
Give us a call today on +44 (0) 1308 897 272 or send us an email at info@dorwestherbs.com.