Christmas is a time for food, family and festivities. Not only do you enjoy it but so does your pet.
More guests and family around the home means more attention for your pets. That means more strokes and kisses, even the lipstick ones from Grandma! However many pets do find it a little stressful if their home is invaded by extra people during Christmas and sometimes just need a bit of 'time-out'. It's a really good idea to make an area where your pet can escape to the calm if they are prone to feeling stressed and they can enjoy some peace.
Along with more attention, Christmas normally means more food! With everyone sitting around the dinner table it gives dogs an extra opportunity for snacking and hoovering up left overs. Most pet owners also like to spoil their dogs and cats a little bit too!
Its great to include your pet in the festivities but there are certain foods that should be kept out of reach.
One of the most common culprits is chocolate positioning. Chocolate is very toxic for your pet so its best that you eat every. Last. Bit!

It's also a good idea for you pets to stay away from cooked bones. Cooked bones can splinter or cause blockage which makes them very indigestible.

Grapes, raisins, currents and sultanas are also a no no as they can cause kidney failure in dogs. That means no mince pies for your pet but they can enjoy lots of other Christmas associated treats.
A small amount of turkey (without the skin) is a great little treat for your dog, along with a potato. Save a little for them when you're carving the Christmas dinner.
Brussel spouts are also good as part of your dog's Christmas dinner or as a treat, a chunk of cheese makes those mouths water!
Read more about what to avoid giving your dog around this time of year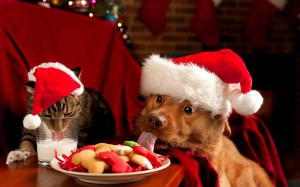 Dogs also love Christmas time because of the WALKIES! Boxing day walks are the highlight of the Christmas period so plan your route and why not check for dog-friendly pubs along the way.
And when you see Grandad snoozing to the Queen's speech or the latest James Bond film on the sofa then your pup will be snoozing off too. There is plenty of excitement around Christmas but also a lot of downtime. The balance is perfect for you and your pet!
We wish you a very Merry Christmas and a happy New Year!