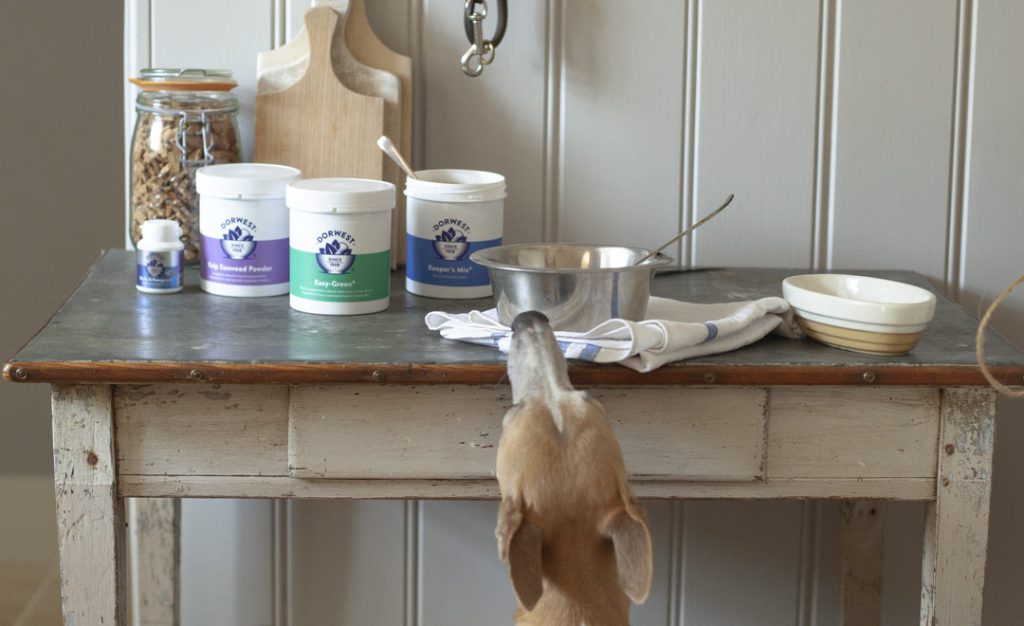 From strong smelling tablets to fussy eaters, it's not always easy to give pets anything extra in their diet. Our resident product expert, Hannah Roy, takes us through how to administer supplements, introducing them into your pet's diet slowly and effortlessly.
Whether it's our powders, tablets or capsules, here are our top tips on how to give supplements to pets.
Powders
Powder supplements can sometimes smell quite strong, particularly for pets that are not used to herbal supplements. It is therefore best to introduce them gradually to the diet and increasing towards the recommended amount over the course of a week or so.  For example, start by adding salt-and-pepper style pinches of the supplement to each meal to allow your pet to get used to the smell and taste.    
For those that are particularly fussy eaters, giving the supplements separately to the main meal can be a good idea as this will reduce the risk of them being put off from eating their food, and makes the supplement seem more like a treat!
Mixing powder supplements with a soft-textured treat can help to make giving supplements to pets stress-free for those who are fussier, and this can also be put into boredom-breaker toys to give your pet some extra enrichment.  Favourite options in the office are live natural yoghurt, small amounts of mashed up banana, or tinned fish. 
From Dorwest Keeper's Mix to Kelp Seaweed Powder, herbal supplements for pets mix really well into raw, home-cooked or wet food diets, but they are suitable to give those that are fed kibble-based diets as well. If giving with a kibble, we recommend dampening the food slightly then adding the supplement and giving a mix.  This way, the powder doesn't just sink to the bottom of the bowl where it can be easily left.  
Tablets and Capsules 
Giving tablets to our pets can sometimes be difficult, particularly if they are skilled at eating around the tablets or spitting them out! Our tablet supplements can be crushed and mixed into the food to make them easier to give to those that are not keen taking tablets whole. Plus, for smaller pets that may not need a full tablet, this makes administering the correct amount a lot easier.   
Our pill crusher is ideal for the job, and make crushing single or multiple tablets easier.  You simply put the tablet into the clear pot and screw the blue lid down. The crushed tablet can then be added to the food and easily mixed in. Our tablet crusher also comes with a compartment in the lid where you can store left over crushed tablets if you are not giving the full amount in one go, so none of the tablet will go to waste.   
Why not check out a real life testimonial on how easy our pill crusher is to use?
Source: Instagram @PolkaDotLoki (Lorren & Loki The Dalmatian (@polka_dot_loki) • Instagram photos and videos)
If you are using one of our capsulated supplements, you can pierce the gelatine capsule and empty the contents onto the food if this is easier for your pet.  If the capsule feels a little hard, you can warm it up in your hands for a bit to help soften the capsule and make them easier to pierce.  Remember, our Evening Primrose Oil and Wheatgerm Oil supplements come in both liquid and capsules so you can buy the straight oil if you are not sure your pet will take the capsule.
---
Our team are experts in herbal pet care and natural supplements for dogs and are more than happy to help. Contact us on +44 (0) 1308 897 272. Alternatively, email us at info@dorwest.com or fill out our online contact form.