Balance is important in life – and for your bitch, this is especially true when it comes to hormones.
Aside from being fundamental to the amazing ability to create new life, female hormones are involved in a lot of the things that we love about our entire bitches, such as their caring nature and their strength of character. Those hormones naturally fluctuate but if the balance gets thrown off too far, it can cause problems.
If your dog experiences phantom pregnancies, unfortunately they have a tendency to suffer season after season. Raspberry leaf is an effective aid, preventing phantom pregnancy occurring and reducing the symptoms. Prevention is key so start giving our Raspberry Leaf Tablets at the beginning of a season for 12 weeks.
To help restore hormonal balance and avoid that 'moody' phase that many bitches suffer from, we would always recommend giving our Evening Primrose Oil. Available in capsule or liquid form and should be given daily after a season or phantom pregnancy to help her feel more like herself again!
We're often asked how to prevent a phantom pregnancy in dogs, however not many dog owners know what signs to look out for when their bitch may be experiencing a pseudo-pregnancy:

Plan ahead to make sure your bitch is in the best possible health. If you're planning a litter, remember to give our Raspberry Leaf Tablets to ensure labour runs smoothly. Popular with breeders, raspberry leaf has been part of herbal tradition as a birth aid for centuries and is still recommended today!
Following the birth, your bitch may experience mood swings and hair loss. This is the time to start giving our Evening Primrose Oil. These not only enhance the skin and coat but also help maintain normal hormonal balance.
Phantom Pregnancy
Administration Instructions:
Raspberry Leaf Tablets: 2 tablets per 10kgs bodyweight daily from the start of start of the season for 12 weeks.
Evening Primrose Oil: 1 capsule per 10kgs bodyweight daily. Give following a season to help stabilise hormonal imbalances that may contribute towards phantom pregnancies, mood swings and behavioural changes.
Pregnancy & Whelping
Administration Instructions:
Raspberry Leaf Tablets: 1 tablet per 10kgs bodyweight daily from third week of gestation until one week after whelping or kittening.
Evening Primrose Oil: 1 capsule per 10kgs bodyweight daily. These can be used during pregnancy if needed, but it is particularly beneficial after whelping to help support the hormones and the coat.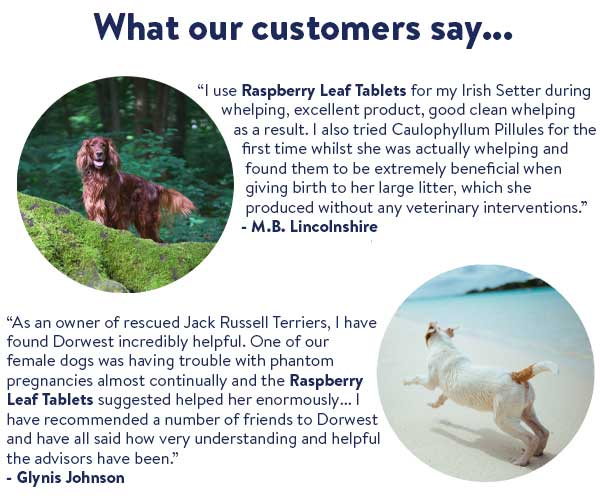 ---
Find out more about how herbal medicine can help your dog by getting in touch on 01308 897272. Plus, get free UK delivery on orders over £50, or sign up to our newsletter here and receive a free delivery code!
Please remember, you should consult a vet if your bitch does not seem herself after a season. There are other life-threatening conditions such as pyometra, so it is always best to get her checked out by a veterinary professional.
---