"Using natural products is something that is extremely important to us when it comes to our three dogs. Not only are Dorwest Scullcap & Valerian Tablets an effective remedy, they are versatile in their use. The tablets been great in helping Lily (the boss of our house!) keep calm and focused in the run up to Crufts. They were also hugely useful in helping Peggy, our Romanian rescue, ease into a normal home life.

Probably the most impressive effect of this favourite in our house though has been around fireworks season. Poor Rodney suffered the most, with uncontrollable shaking and Peggy regularly took cover in her bed when the bangs started.

The Scullcap and Valerian Tablets allowed them both to keep a clear head during positive reinforcement training and the difference now is incredible. Rodney's shaking episodes have drastically improved and Peggy is happy to be out of her bed and enjoy the evening with us when fireworks are going off. We can even have the back door open for short intervals!
Our top tip is to use the tablets from the start of October through to mid-January as this covers you for Halloween, Bonfire Night, Christmas and New Year. The joy of a natural product is that this long-term use is safe on the body too. Thank you Dorwest for your passion for animal health, you're a staple in our dog cupboard!" – Yasmin & Peggy, Rodney & Lily

Scullcap & Valerian Tablets naturally supports the calming pathways within the nervous system, reducing anxiety without immobilising muscles or causing drowsiness. Best results are seen when used over time, alongside gentle behavioural training. Learn more about how to keep your pet calm during fireworks season in our recent blog…click here.
Dorwest Herbs have been working with dogs for almost 70 years and are the leading UK provider of herbal pet supplements.
To find out more about our products including our range of natural shampoos and herbal supplements for dogs, get in touch with our experts today on 01308 897 272. Alternatively, email us at info@dorwest.com or fill out our online contact form. Plus, get free UK delivery on orders over £50 and 10% off full-priced products for life when you join the Dorwest Loyalty Club.
---
We know from personal experience how distressing it can be when your dog is afraid of loud bangs, and with 'fireworks season' becoming longer and less predictable, knowing how to calm your dog during fireworks is more challenging than ever. The good news is that there are steps you can take to help your four-legged friend and restore calm in your home during this time.
Preparation is key, so if you know your dog is afraid of fireworks, it's a good idea to start planning ahead – ideally at least a month in advance and especially if they have a severe phobia. During this time, giving our Scullcap & Valerian Tablets for Dogs daily can help naturally relax your pet so they are in a calmer state when the scary noises start. Best results are seen when used alongside gentle and consistent behavioural training (e.g. noise desensitisation programmes).
Don't worry if you're reading this just a few days before bonfire night though – noise phobia in dogs is common and it's never too late to help your pet with their fireworks fear. A lot of the things that you can do to support your pet can still be implemented and even if you start Scullcap & Valerian Tablets now, your pet will still benefit.
---
Naturally dial down your pet's fireworks fear
How to help dogs afraid of fireworks (for severe phobias):
> 1 MONTH to go
If your pet has a severe phobia, they will benefit from being given Scullcap & Valerian Tablets daily, starting now.
Desensitise – Consider starting a firework desensitisation programme now, to gently get your pet used to fireworks sounds and help reduce their fear.
---
(For Moderate Phobias):
10 DAYS to go
Start giving Scullcap & Valerian Tablets daily.
Create a safe place – A pet crate covered with a heavy blanket, containing treats, favourite toys and a water bowl provides a nice hidey-hole for a pet to escape to. Give your pet time to get used to it and never force them to go in.
---
ONE DAY to go
If necessary, double the amount of Scullcap & Valerian Tablets (or start giving now – it's never too late!).
ID check – Make sure your pet's microchip details are up to date and they are wearing a collar with an ID tag, so that if they escape, they can be quickly and safely returned.
---
The BIG DAY
Keep giving the Dorwest Scullcap & Valerian Tablets at a higher rate but give the evening tablet(s) before dusk.
Take them for an early walk – Go for a long walk earlier in the day while it's still light – before the bangs start!
Act normal – Be a good example by remaining calm yourself. Stay with your pet to reassure them with your presence and respond to their signs of fear with calming words but try to behave as normally as possible.
Keep the noise out – The background noise from TVs and radios can help provide a simple solution for noise phobia in dogs (don't be tempted to turn them up above normal though), make sure windows are firmly covered and all external doors are shut.
Top Tip
Split the daily recommended number of Dorwest Scullcap & Valerian Tablets across AM and PM and double this amount on the day that a scary event is anticipated. Don't forget to have our Valerian Compound for Dogs ready to give as a fast-acting top-up, if needed.
What is it that they say about 'the best-laid plans'…? For situations where you are 'caught-out', for example, thunderstorms or an unexpected fireworks display, our liquid Valerian Compound for Dogs is a great short-term and quicker-acting option. If you have a fearful cat, they especially love it if a few drops are placed on a cloth wherever they sleep, to help them relax. Dorwest Valerian Drops can also be used alongside Scullcap & Valerian Tablets for a 'top-up' if needed.
Trusted by pet owners and veterinary professionals for over 50 years, the active herbs in both of these products help to naturally support the calming pathways within the nervous system, reducing your dog's anxiety without immobilising muscles or causing drowsiness. They don't make pets dopey or wobbly – in fact, our Scullcap & Valerian products are widely used for agility and show dogs when they need to be alert and focussed, but calm.
We have received so many lovely testimonials about how our Scullcap & Valerian products have helped restore calm in households that were often ruled by their four-legged family members' anxiety and fear – so we really hope they can help you and your pet get through fireworks season stress-free too.
We've recently made a few changes to our Scullcap & Valerian Tablets:
---
Find out more about how to calm your dog during fireworks night or get in touch with one of our experienced advisors to learn more about our Scullcap and Valerian for dogs. Call us on 01308 897272 or use our contact form. Plus, get free UK delivery on orders over £50.
Please remember, you should always consult a vet if you are concerned about your pet's health.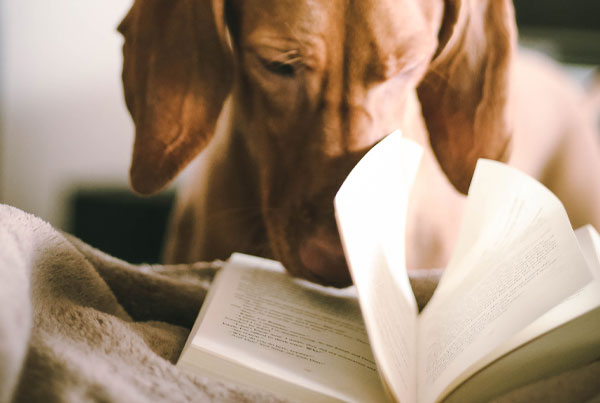 ---
There's nothing better than relaxing with a good book with your dog by your side (especially if the book is all about dogs!). With this in mind, we're going to help you celebrate "National Reading a Book Day" on Sunday September 6th by rounding up some inspiring dog books which you might like to enjoy. Plus, we'll explore the benefits of reading to dogs too. So, grab those reading glasses & get ready to choose your next dog book…
THE PAWFECT EXCUSE TO READ A GOOD DOG BOOK…
As you may know, reading at any age can;
• Help reduce stress
• Aid sleep
• Expand vocabulary
• Offer an opportunity to escape the realities of life
And these are just some of the many reasons to enjoy National Reading a Book Day with a good dog book. But did you know reading to dogs also has benefits, specifically for children? The benefits of children reading to dogs include increased confidence to read out loud (as dogs don't judge) and speech improvement. Dogs can help make reading fun for children when it might have previously been a source of stress.
Thankfully, there are a number of charities and social enterprises across the UK which help to take dogs into schools for this very reason. The Kennel Club have created their Bark and Read Foundation, funded by the Kennel Club Educational Trust, to promote such work. The foundation provides money to charities such as Pets as Therapy, enabling more volunteers to go to schools with their dogs. This helps even more children to reap the benefits from reading to dogs. The dogs enjoy the company and attention too.
A SELECTION OF DOG BOOKS TO ENJOY…
So, we know the benefits of reading to dogs but the hard part can be deciding which book to read! Hopefully, we can make this decision a little easier with our round-up below:
1. Adventures in Petlandia by Petlandia
To kickstart our list, we thought we'd start with a children's dog book. Wouldn't it be wonderful if your child could read a book, starring their very own four-legged friend? Well, they can!
With the help of Petlandia, your dog can become the star of a book. With a few clicks of a button, you can personalise "Adventures in Petlandia" with your own pet, hometown and owners name. Wonderful, eye-catching illustrations help make this not only a good book to read but a keepsake too.
2. Lucy's Law by Marc Abraham
Over the last few years, there have been a number of powerful non-fiction books featuring some inspirational dogs. One of the most recent releases is this one, which shares the incredible story of a little dog who changed the world.
This little dog is Lucy, a Cavalier King Charles Spaniel who was born into a Welsh puppy farm in 2008. The book chronicles her journey from puppy farmed dog to forging a path for change in puppy farming practices. This change culminated in a new law being passed which came into effect this year; Lucy's Law. This is a true rags to riches story and goes to show how dogs and people can work together to bring about positive change in the world.
3. Fabulous Finn by Dave Wardell & Lynne Barrett-Lee
If you're looking for dog books which showcase bravery and determination, this has to be the one! The book focuses on the true story of Finn, a German Shepherd police dog who was stabbed in the line of duty in 2016. He saved his handlers life by taking the brunt of a 10-inch blade.
Whilst Finn almost paid the ultimate price to protect his handler and apprehend a violent criminal, there's a lot more to his story. From starting his Police journey at 9 months old, to finding missing children and enjoying his retirement, this book shares it all. Not only are there extreme levels of bravery showcased in this book but at the heart of it, there's the love between dog and human.
4. Lily & The Octopus by Steven Rowley
Whilst this dog book has been around for a number of years, it still remains one to add to your book shelf, if it's not there already. As pet parents, we all know the amazing companionship our dogs provide to us. Lily the Dachshund and her owner Ted are the focus of this fiction delight.
This novel beautifully summarises this special relationship and all the twists and turns which come with loving a dog; including saying goodbye. If you love Marley and Me, then this book is likely to strike a chord with you. You'll need a tissue or two but expect a number of smiles along the way too.
5. Olive, Mabel & Me by Andrew Cotter
You might have found some light relief via these three on social media over the last few months. For those who don't know, Andrew Cotter is a professional sports commentator…who started commentating on the antics of his two Labradors, Olive and Mabel, during lockdown. Needless to say, they all picked up a legion of firm fans which has led to a brand-new book all about their lives together. It may be a little late for National Read a Book Day, as it's available on the 15th October, but at least you can pre-order now!
WHICH DOG BOOKS ARE YOU GOING TO CHOOSE?
Hopefully, you've found our little round-up of dog books helpful. Which one are you going to choose for your new read? We'd love to hear which dog books get your vote. Let us know in the comments below or via social media.
Dorwest Herbs have been working with dogs for almost 70 years and are the leading UK provider of herbal pet supplements.
To find out more about our products including our range of natural shampoos and herbal supplements for dogs, get in touch with our experts today on 01308 897 272. Alternatively, email us at info@dorwest.com or fill out our online contact form. Plus, get free UK delivery on orders over £50 and 10% off full-priced products for life when you join the Dorwest Loyalty Club.
---
There are times in the year when we all may spend a little more time at home than usual. Whether it's the annual school summer holidays or unexpected situations, such as COVID19. But what happens when the realities of daily life come back into play? Returning to work and school can feel un-settling to us but even more so for your four-legged friend. The good news is, there's plenty you can do to help support your dog during these transition phases. The aim of this blog post is to share some top tips for overcoming separation anxiety in dogs, which can occur during such changes at home…
---
What Is Separation Anxiety In Dogs?
Separation anxiety in dogs occurs when they get excessively stressed when you're not with them. According to The RSPCA, research suggests 8 out of 10 dogs suffer from separation anxiety. As social animals, it's understandable to see why so many do. Dogs commonly display this in a number of ways within the first 30 minutes of you leaving, some of which you may have mistaken for simple bad behaviour:
---
• Barking / howling
• Pacing, panting and shaking
• Destruction
• Toileting inside
---
Nobody likes to think of their dog becoming anxious and thankfully, there are a number of ways to help your dog's separation anxiety.
---
1. Start To Recreate Their New Routine Early
Your dog is likely to have enjoyed your extra company over the last few weeks or months. To go from lots of activity at home to sudden quietness can leave your dog feeling anxious. Imagine if roles were reversed and your dog suddenly wasn't with you – no doubt you'd feel anxious too. Therefore, when you know your home is due to become quieter e.g. returning to school or work, preparation in advance is a good starting point.
When our families are back to school or you're back to work, it's more likely you'll have a regular routine e.g. wake-up time, feeding time, walkies etc. If you know what your routine is likely to be, try to recreate it in the days and weeks leading up to it really happening. This way, your dog isn't too confused and there is an element of routine in place, which dogs like.
---
2. Encourage Them To Spend Some Time On Their Own
Dogs are often described as "little heartbeats at our feet." Whilst it's a wonderful feeling to have our dogs with us all the time, it's important to acknowledge your dog needs to be content spending some time alone too. Firstly, ensure they have a safe and comfortable space to be when you're not with them. With this in place, you can start encouraging them to stay on their bed and reward this with a treat (e.g food, a toy, attention). Build up the distance between you both gradually and consistently and never punish your dog if they don't do as you've asked.
For example, start with them staying on their bed when you're just a few steps away and eventually build up to them being in a room or part of the house on their own. You can then build up to leaving the house for short periods of time, with the aim of building up to an hour without any displays of separation anxiety. Once you're past this point, most dogs are content with being left for longer periods of time e.g. a couple of hours. All of the above helps to show your dog you will be back. Patience is key.
When you do leave the house, do so calmly and without too much fuss too, as this may make your dog anxious.
---
3. Keep Them Occupied
Mental boredom can lead to dog separation anxiety too, so consider how you can keep your dog entertained. Firstly, taking them on a good walk before you leave them is advisable. This way they've had some special one-to-one time with you, they've had fun and they've also minimised any excess energy. A good sleep is likely to be welcomed by them!
Secondly, consider leaving a long-lasting toy such as a Kong. These toys can be beneficial as you can stuff them with food, such a peanut butter (without xylitol). Your dog will need to work hard to get it, so a good dose of mental stimulation is provided.
The key with any toy you leave is that it's safe (e.g. no choking hazard) and its special e.g. it's only present when you're not at home with them. However, it may be sensible to test in advance with your dog first, so you can foresee any potential issues with whatever you decide to leave with your dog.
It's also important to be mindful of your dog's weight too, so if they're having extra food treats, minimise the amount you give them for breakfast/dinner.
---
4. A Bit Of Extra Company
Your dog may have become used to the humdrum of family life. For example, is the radio or TV usually on when you're home? Consider repeating common habits such as these when you're not at home, to provide your dog with some consistency and some added company. For example, there are special 'pet music' playlists available via Spotify which your dog might like to try.
You may also want to consider leaving an item of clothing or an old towel with your scent on to support your dog too. Just be mindful they can't hurt themselves on your item of clothing (avoid buttons and zips) and perhaps avoid doing so if your dog is known to chew.
If you know you're going to be out of the house for a period of more than 4 hours, consider a dog walker or sitter who can pop in and spend some quality time with your dog. This extra bit of company can really help to break up the day for your dog and ensure they're receiving toilet breaks too.
---
5. Check In At Home
No doubt you'll be pining for your dog as much as he or she will be for you. Thankfully we live in a technological age which means there are plenty of cameras you can install at home to keep an eye on them. There are varying price ranges available for all budgets. Sync with your phone & you can put your mind at ease and intervene if necessary, e.g return home earlier than planned.
Using such technology also gives you a better idea of exactly how your dog copes when you're not there so you can introduce further assistance if required. Knowledge is power, plus it's comforting to see your dog when you're not physically at home.
---
6. Some Extra Help…
Some dogs may require a little extra help with their separation anxiety. We have two main ways of helping you with this. Firstly, our Scullcap and Valerian Tablets for Dogs can be introduced in anticipation of changes at home. The earlier you start, the better the results are likely to be. The tablets help to relax your dog gently without drowsiness or sedation. They work as the herbs are nervines which help to naturally relax the nervous system. This reduces anxiety but doesn't sedate muscles.
If your dog's separation anxiety is particularly worse on a specific day, you may want to try Valerian Compound too. This can be added directly to their mouth or food or sprinkled on their bedding. It is fast acting, so within just 30 minutes, you should notice changes in your dog's behaviour. The effects are short-lived so it's recommended you combine with the Scullcap and Valerian Tablets for longer lasting results.
Other extra help can be found via a clinical animal behaviourist. They may be able to identify some further ways to support your dog with separation anxiety training. Alternatively, they may uncover other potential issues which may help with your dog's separation anxiety once addressed.
---
Ready To Go Back To Work Or School?
So, do you feel prepared for your return to work or school now? Fingers crossed the above will enable you to prepare your dog and minimise separation anxiety. Let us know if you feel ready and if there's anything we can do to help.
---
Buy Dorwest Scullcap and Valerian Tablets online or get in touch with our experts today to find out more on 01308 897 272. Alternatively, email us at info@dorwest.com or fill out our online contact form. Plus, get free UK delivery on orders over £50 and 10% off full-priced products for life when you join the Dorwest Loyalty Club.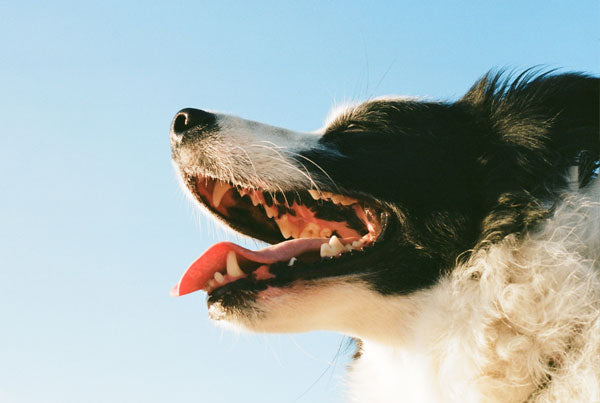 ---
Like humans, dogs can experience common issues with their dental hygiene if their teeth and gums are not regularly maintained. Left untreated, dogs dental hygiene issues can be both painful for your dog and expensive for you. The good news is there are a number of small, consistent canine dental care actions you can take to help your dog with their dental hygiene. Here, we share are our top tips to help you create a canine dental care routine for your dog so you can help keep their dental care in tip-top shape…
Common Dog Dental Health & Hygiene Issues
PLAQUE & TARTAR: If you've seen inside your dog's mouth, you may have seen what appears to be brown staining on their teeth. This is, in fact, likely to be a build-up of plaque & tartar. By removing plaque from your dog's teeth, you can prevent gum disease which leads to gingivitis.
BAD BREATH (GINGIVITIS): This is probably the most well-known dental issue with dogs. Many of us have been on the receiving end of our dog's smelly breath. Sometimes this is caused by little 'treats' they've decided to chew during walkies but chronic bad breath can be a sign of other issues which need investigating, such as gingivitis, which is caused by gum disease.
BREED: Some dogs are more prone to canine dental issues than others due to their breed. This is often due to the shape of their face, such as sighthounds or flat-faced breeds. For example, teeth overcrowding can lead to a build-up of food which can lead to gum disease.
That being said, dogs of the same breed, in the same household, with the same diet etc may have completely different dental hygiene issues. If your dog is a breed prone to dental issues, it means you might have to work a little harder to maintain a regular dental care routine for your dog. It can be done though…
MOUTH INJURIES: These are caused by foreign bodies such as stones which could crack teeth or sticks which could cut the inside of your dog's mouth. If left untreated, this can lead to infection. Perhaps bringing your dog's own toys such as tennis balls on walkies may help deter them from picking up things which may cause them harm and prevent any dental issues.
---
How To Create A Canine Dental Care Routine…
So, how you do help to improve your dog's dental health? Creating a regular canine dental care routine for your dog can certainly help. Find our top tips below to help you create such a routine for healthy dog teeth.
---
TIP 1: SCRUB THOSE PEARLY WHITES
Introducing your dog to regular teeth checks and cleaning* as early as possible is highly recommended. This will help you monitor the condition of your dog's teeth and gums and help maintain them too. Even if you have an older dog, there's still an opportunity to create a canine dental care routine.
When starting anything new, such as teeth checking and cleaning, do so gradually and make the experience fun for your dog. We may have just the thing to help make the experience more appealing for your four-legged friend; our roast dinner toothpaste! This could be a great way to tempt your dog to try teeth brushing. Our natural toothpaste for dogs not only tastes good, it also helps reduce the build-up of any dental plaque, which can often lead to tartar and gum disease. It contains sage oil which is an anti-oxidant and has more than a dozen antiseptic compounds; a great way to help keep those gums healthy.
There is an array of different tooth brushes available from those similar to our own human ones, to special rubber fingers brushes, which may make access easier and less daunting for your dog. The key is to make the experience as positive as possible, so be patient and take time to build-up to teeth cleaning.
If you want some additional help tackling the odours associated with bad breath, our Neutradog Tablets can be a perfect way to help neutralise some of these smells! It contains chlorophyllin, parsley, seaweed and mint which all work together to help keep those smells at bay.
Our Garlic and Fenugreek Tablets For Dogs can also aid the treatment of gingivitis due to their antibiotic, antiseptic, anti-viral properties and anti-inflammatory compounds. They combine to provide symptomatic relief and can support the immune system by increasing resistance to infections. A great way to support your dog's fight against gum disease, which leads to gingivitis.
*Always ensure you use special dog toothpastes, not human products, which can be toxic.
---
TIP 2: KEEP THAT PLAQUE AWAY
Providing your dog with an opportunity to chew regularly can be a great contributor to healthy teeth and gums. Natural chews such as antlers, raw chicken wings or yak milk chews can help to naturally clean their teeth by removing any loose plaque. Specific dental chews to reduce your dog's plaque are also available.
When selecting a chew for your dog, consider your dog's size and always ensure you are monitoring your dog. This will help to avoid any potential choking hazards. It's worth noting, some dental chews can contain a number of calories. Keep a close eye on your dog's weight and act accordingly if you notice their weight creeping up.
Another way to minimise plaque is by using our Fragaria 3C. These work by softening tartar which makes it easier to remove from encrusted teeth. It also helps to slow down and prevent the formation of new plaque deposits too. These tablets are very small, making them easy to swallow for your dog. Take a peek at some of our reviews to read the experiences of other dog owners.
---
TIP 3: GOOD DIET
Diet can also play a role in your dog's dental hygiene. Ensuring part of their diet requires chewing can be beneficial to maintain their gleaming teeth. The reason for this? Some foods which require a little more chewing than others can help to gently remove plaque, without your dog even realising.
---
TIP 4: STAY CONSISTENT
When combined, the above can all work really well together to help keep your dog's dental hygiene in peak condition. It's worth noting there is one thing which is needed to make them all work though: consistency. Doing all of the above regularly and maintaining a canine dental care routine gives your dog the best chance of having a happy mouth.
---
The Time For Dental Work…
Sometimes despite all your efforts, it may be necessary for your dog to have some additional professional help. This can take a form of a thorough dental assessment and deep clean under anaesthetic. This is a great incentive to keep on top of your dog's dental health to help you minimise this possibility. If you're ever concerned about your dog's dental hygiene or note any changes, always consult your veterinary professional.
---
Ready To Create A Regular Canine Dental Care Regime For Your Dog?
So, there you have it! 4 key steps to try to help your dog keep plaque, tartar and gum disease at bay. Are you ready to a create a regular canine dental care routine for your dog? We'd love to hear how you get on…
For more information on Dorwest Herbs natural dog toothpaste or any of our herbal supplements for dogs, get in touch with one of our experienced advisors. Call us today on 01308 897272 or use our contact form. Plus, get free UK delivery on orders over £50 and 10% off full priced products for life when you join the Dorwest Loyalty Club.
Please remember, you should always consult a vet if you are concerned about your pet's health.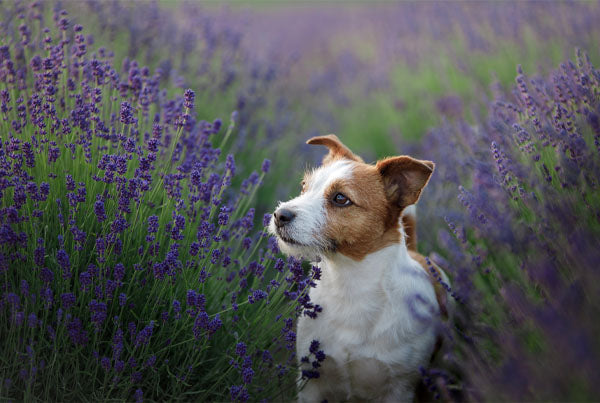 Have you ever wanted to introduce herbal pet care to your dog but don't know where to start? Well, you've come to the right place! We're going to help you start your herbal pet care journey with your very own beginners guide. You'll discover how to get started, learn about some of our recommended herbal products for dogs and explore what support is available to you.
Some of our 'everyday essentials' dog supplements
One of the most common reasons for purchasing herbal products for dogs is to promote good general health. Whilst some herbal dog care products can be used to treat specific issues, at Dorwest Herbs have our four 'Everyday Essentials' which can be a perfect way to help maintain a happy dog. A lot of these work well together too. These all-rounders include:
• Keepers Mix: Our unique blend of eight herbs to support all-round health. This is our top selling dietary supplement for dogs, and we know why – it gives your dog's diet a super-boost and helps maintain the condition of their skin and coat.
• Omega Star: A beautiful blend of Omega oils combine to nourish skin, restore coat shine and promote hair growth. Just think of those lovely, shiny locks! Easy to add to your dog's food and the results speak for themselves.
• Garlic and Fenugreek: These come in tablet form and are the perfect herbal supplement for dog's to boost their immune system. They can also provide relief for dog's who struggle with arthritis, minor infections and skin conditions too. This is all thanks to the anti-inflammatory, antibiotic, antiseptic and anti-viral properties.
• Green Releaf: This is another great all-rounder to support your dog's health. These also come in tablet form and have natural anti-inflammatory, antihistamine, anti-bacterial and pain-relieving properties. This dietary supplement for dogs is beneficial as a natural option for pets on a raw diet.
How to decide which products to choose?
Thankfully, there is a lot of support available to help you with choosing the right herbal products for your dog's needs:
• The Dorwest Herbs website: With options such as shop by condition, A-Z of common problems & regular blog posts, our website is a great first step to understanding herbal pet care and all the benefits it can bring. From allergies to whelping and all that's in between, you can find it here.
• Dorwest Herbs social media platforms: You can discover lots of helpful information via our Facebook, Instagram & Twitter platforms. Our very own MD, Jo Boughton-White, hosts various Live Q&A's regularly too, providing you with exclusive access to learn all about herbal pet care and our range of herbal products for dogs. We also have a fantastic Facebook Group where our followers share information and experiences. Our advisor's are also on hand in there. Come and join in, we'd love to see you.
Get on the 'dog & bone' to our advisors: To discuss more specific issues surrounding herbal dog care, speak to one of our advisors on the phone.
How to introduce fussy eaters to herbal supplements
Is your dog a fussy eater? We've got you covered.As with any changes you make to your dog's lifestyle and diet, do so gradually. It may be useful to consult your vet before making any changes too, especially if your dog is on existing medication. All our herbal supplements for dogs are suitable to be used for dogs over 8 weeks of age (with Tree Barks Powder available from weaning age).
Our products come in a range of varieties from tablets and oils to herbs sprinkled on their food. It's always helpful to consider how your dog may take to these. For example, many dogs love nothing more than wolfing down their daily dosage but what if your dog is a fussy eater? With herbs like our Keeper's Mix for Dogs, the key really is to introduce it gradually and in smaller doses to begin with. You can also consider mixing with natural yogurt or even mashed up banana initially.
If the product you've chosen comes in tablet form, you might want to consider crushing them and sprinkling over your dog's food. Or you may choose to wrap the tablets in something tasty instead (or they'll just accept it as a yummy treat – so many do!).
What about the dosage?
All our herbal products for dogs are carefully labelled with full instructions about dosage and ingredients. This means we're able to meet the needs of all dogs, large and small. We recommend giving half the daily quantity of any products in the morning and half in the evening. Our latest herbal pet care catalogue provides a clear breakdown of all the products and dosage levels.
Remember, if you're still unsure, just contact our advisors. They'll happily provide any advice you need specifically for your dog. No question is too big or too small, so always feel free to reach out and ask.
How long until you see results?
Herbal pet care can deliver some wonderful results. As with all things in life, the best things take a little time. With this in mind, we recommend giving herbal products at least a month to start working their magic and delivering some results. However, some of our supplements for dogs, e.g. Valerian Compound, have a much faster effect.
Ready to begin your dog's herbal pet care journey?
Hopefully, you're now closer to beginning your herbal pet care journey with your dog. Are you excited?! Let us know how you're going to start (and if we can support you in any way). We'd love to hear from you and learn about your dog's progress.
Buy Dorwest Herbs herbal supplements for dogs online with free UK delivery on orders over £50 or get in touch with our friendly team of experts on 01308 897 272 or email us on info@dorwest.com. Enjoy 10% off full priced products for life when you join the Dorwest Loyalty Club.
In recent years we have seen a growth in the availability of quality unprocessed raw foods being sold for dogs, and plant-based supplements are an important part of these regimes as dogs' benefit from the essential nutrients they contain. One of the most common questions we are asked at Dorwest is 'What herbal supplement can I feed my dog who is on a raw diet to ensure they are getting all the vitamins and minerals they need?'.
A well-balanced diet is fundamental to your dog's health. Whether you feed raw or your dog is on dry food, getting all the nutrients that your dog needs can be tricky and often owners don't know why or how supplements fit into their dog's diet. On the other hand, many owners believe that commercial 'complete' foods contain all the relevant herbs and other nutrients, so there is no need for extra supplementation.
Unfortunately, this is far from ideal as processed foods are subjected to heat treatment during the manufacturing process that destroys many of the vital nutrients, and the quantities included in the feed are usually too small to have any real benefit.
How do I know if my dog is getting all that they need nutritionally?
Every dog is different, and every dog's vitamin requirements will be different but there are some signs to look out for that could indicate that your dog is missing something from their diet or just need a little extra!
• Coprophagia (also known as poo eating) is a common one.
Although this may be down to behaviour or they simply like the taste (eww!). Dogs understand what their body is lacking, and whether it's due to digestive intolerances or just because their nutritional needs change throughout their life, this may trigger poo eating in their attempt to obtain more nutrients.
• General health is also reflected in the coat as well as vitality.
If you're noticing a dull coat or any bald patches, it could be that their diet is not feeding their needs. Much like ourselves, we can see the effects of an unbalanced diet in our skin and hair so for our dog's an everyday herbal supplement, along with a good grooming regime, will promote a healthy coat particularly in breeds with a hard or rough coat. Read our blog (linked above) to see our top tips for washing your dog.
• Another popular one is eating Clivers.
Does your dog ever stop on a walk to eat away at the hedges like grazing cows? Well, that's because dogs love Clivers, more commonly known as Sticky Weed (that stuff you jokingly throw at each other and it sticks to your clothes), but why are they so transfixed on this herb?
It is thought to be excellent for cleansing the blood and strengthening the liver, and overall to help the body achieve good health for the change of season into summer. Clivers also contains anti-inflammatory iridoid glycosides and anthraquinones which are diuretic, and its ability to maintain and mildly increase the flow of urine is known as its main medical use. So, it is possible that when your dog is eating Clivers, he or she is giving themselves a bit of a spring clean and they naturally know that it's beneficial for them at this time of year!
Also, did you know that dogs find it hard to break down vegetables?
Even a super green dinner packed full of vegetables might not give your dog all the goodness on the inside, as dogs find it hard to break down cellulose in vegetables, so these nutritious plants need to be given pulsed, or more easily in an appropriate supplement for better absorption. Dogs also have a much shorter digestive tract than us humans, so, have a smaller time period in which to absorb the nutrients from food. Herbal supplements for dogs are formulated to guarantee all is fully absorbed, providing a diet-super boost.
Discover an everyday herbal health supplement for any diet that meet dogs' vitamin requirements.
• Our Keeper's Mix contains 8 different herbs, all of which have different properties and differing amounts of minerals, vitamins and trace elements that occur naturally in plants.
• Each herb in the mix contains ingredients that benefit a different major organ in the body.
• It contains Clivers as well as natural antioxidants, vitamins, minerals, chlorophyll, fibres, and complex bioactive compounds from other herbs.
So, what are you waiting for? Dorwest Herbs Keeper's Mix for Dogs is the everyday herbal health supplement that will benefit all dogs and any diets, making it a real contribution to your dog's nutritional needs.
And now, 10% of profits of the sales of Keeper's Mix will go towards the Dorwest Foundation which will donate to established Animal Welfare Charities. In buying this product you are giving your dog a good foundation and helping other dogs with theirs.
Purchase Dorwest Herbs Keeper's Mix online with free UK delivery on orders over £50. To learn more about our herbal remedies for dogs, get in touch with our friendly team of experts on 01308 897 272 or email us on info@dorwest.com. Enjoy 10% off full priced products for life when you join the Dorwest Loyalty Club.
---
Our Keeper's Mix® dog supplement is a unique blend of 8 herbs, originally formulated by a Dorset gamekeeper and kennel man. This dog food supplement was brought up to date by Dorwest Herbs using the benefit of modern herbal knowledge.
We utilised scientific methods to guarantee the purity and quality of the ingredients so as to ensure maximum overall health benefits.
Why should I feed Keeper's Mix® to my dog?
Keeper's Mix® promotes all-round heath, supporting vital organs and maintaining natural balance in your pet's body, as well as encouraging a thick and healthy coat.
The wonderful formulation in this natural dog supplement keeps dogs in top condition by giving their diet a super boost. Balance is the key to this potent herbal blend which contains natural antioxidants, naturally occurring vitamins, minerals, chlorophyll, fibres and complex bioactive compounds.
Which beneficial herbs are found in Keeper's Mix®?
Each herb in our Keeper's Mix® For Dogs contains ingredients that benefit a different major organ in the body, and this is reflected in improved general vitality and a healthy coat.
These are the herbs in Keeper's Mix® For Dogs and the benefit of each ingredient:
• Kelp Seaweed for minerals, coat growth and pigmentation. We recommend Keeper's Mix® as a dog coat supplement, as the kelp seaweed encourages healthy coat growth.
• Celery Seeds for suppleness and free movement. It's important to look after your dog's joints, as sadly their joints can wear as they age.
• Lucerne, also known as alfalfa, a nutritious plant that is a source of Vitamins A, C & K. This herb provides essential dog vitamins to promote your dog's health.
• Nettles which are rich in chlorophyll, iron and Vitamin C.
• Rosemary is good for the digestion and flatulence and helps maintain a healthy heart.
• Psyllium for a healthy bowel and digestion. This herbal remedy for dogs is excellent for improving the digestion of both raw and processed food.
• Clivers helps to maintain good kidney and bladder function and clear skin.
• Wild Yam is useful to sustain a healthy intestine.
Is Keeper's Mix® For Dogs safe?
No artificial vitamins or minerals are added to the 100% herbal ingredients in Keeper's Mix®, ensuring we provide a safe, natural form of supplementation.
Naturally occurring vitamins and minerals are more readily absorbed by the body and therefore have more benefit. For that reason, dog food supplements given in this natural form will not overheat or overload the system.
However, the visible benefits are clear to see with a wonderfully thick and healthy coat, good pigmentation and improved overall health.
Don't just take our word for it!
Works for my dogs
"I have been using Keeper's mix® on and off over a few years with my dogs and I have to say once you start and give it a month I found a vast improvement with my dogs coat as she does have a few allergies (grass etc) I think it's worth a try."
Just great
"First time customer. Ordered Keeper's Mix® for my Hungarian wirehaired vizsla Poppy have been mixing in his food. He's had no problem eating his food with it in. I was so shocked when I opened it, it smells absolutely amazing. My wife said she would use it in her cooking it smells that good."
Immediate results
"Our Greyhound retiree had a very fine, very thin coat and was continually shedding while our Jack Russell has a long wiry coat that sheds all year round. I was looking to improve their coats and ensure that they are both getting all the vitamins and minerals they need. The results were almost immediate. The daily "tumbleweed" floating around the floors has reduced. Their coats are soft and silky, even the wiry one! After a couple of weeks there is a definite reduction in bald or thin patches on our greyhound. I don't know if it's my imagination but our terrier's eyes appear sparkly and much less runny. She has also lost weight which was needed. Both dogs are the picture of health. I will definitely be continuing to add Keeper's Mix® to their breakfasts."
Did you know that our Keeper's Mix is our official Foundation product with 10% of profit from every sale donated to the Dorwest Foundation? By purchasing to help your dog, your helping others!
You'll build both your dog and other dogs a good foundation when you purchase Keeper's Mix.
For more information about Dorwest Herbs range of herbal remedies for dogs and dog food supplements, get in touch with our team of experts today. Call us on 01308 897272 or use our online contact form. Plus, get free UK delivery on orders over £50.
Please remember, you should always consult a vet if you are concerned about your pet's health.
---
Working from home has become the new normal of late and with this new office set-up, you may have found yourself sharing your office space with a new co-worker: your dog! Cue those ZOOM meetings when your dog decides to join in! Whether you're still working from home with your four-legged co-worker or returning to a dog-friendly office, did you know there are actually a number of benefits of bringing your dog to work?
You might want to tell your boss, especially as June 26th is #BringYourDogToWorkDay! To celebrate,we thought we'd provide the lowdown on this exciting annual event, so you can join in with you dog, as well as exploring the benefits of bringing your dog to work in general. We'd also like to take this opportunity to introduce some of our very own Dorwest office dogs! Suits and ties at the ready…?
The benefits of bringing your dog to work
Whether you work in a dog friendly office or your dog has become your new co-worker while you work from home, there are a number of benefits of 'office' dogs…
• Light Relief
Dogs are excellent entertainers (as Barney often likes to demonstrate at HQ, which you'll read below!). Dogs present an opportunity for some laughter which releases feel good chemicals into our bodies. This helps with overall wellbeing, which is really important in all aspects of life, including at work.
• Calming
There are many benefits of stroking dogs and helping you feel calm is just one of them. Stroking dogs helps to release chemicals such as serotonin and oxytocin, which help us feel good and relieves stress. There's an added benefit of lowering blood pressure too. Stroking dogs will not only feel good but your work is likely to reap the benefits too if you're feeling calm. A perfect excuse to give your dog some attention.
• Bonding with team members
Laughing at the antics of office dogs can be a great way to build communication and morale amongst team members. Office dogs may particularly help to encourage engagement from those who may usually be a little quieter around the office. There's nothing better than lots of laughter when a dog decides to show off their personality. Improved communication and bonding are very beneficial to a working environment and dogs certainly help to develop both of these.
• Improving productivity
Taking a step away from a phone or computer screen can help to clear your mind and refocus. Office dogs encourage such actions, as they'll need you to take them out to the loo or even go for a little walk. Taking some fresh air with a four-legged friend can help you feel refreshed. You're then ready to tackle the rest of your day.
Should all dogs be office dogs?
Office environments aren't suitable for all dogs (some may prefer to have some peace and quiet at home!). It is always important to put your dog's needs first, so be mindful of your dog's character if you have an opportunity to bring your dog to work. As you'll see in Barney's profile below, he prefers to come in on the quieter days. Understanding what will and won't work well for your dog is really important.
Likewise, if you're now working from home, you might want to ensure your dog has some time to themselves during the working day. If you're due to return to normal office working in the near future, it will help prevent your dog from experiencing too much separation anxiety when you do finally return to work.
We're always happy to share our experiences of our dog-friendly office. Feel free to contact us if you're considering taking your dog to work. We're happy to answer any questions about how we make it a safe and happy environment for our four-legged friends…
Introducing some of theoffice dogs at Dorwest Herbs
Here at Dorwest Herbs, we're fortunate every day is 'Bring your dog to work day' for the team. Dogs large and small roam the offices and keep us all in check! We'd like to introduce you to just some of our four-legged Dorwest team!
Ben & Elsie (Boo-Boo) the Whippet
Age: 10
No. of years working at Dorwest Herbs: Elsie is a Dorwest dog born and bred and has been here since she was a little puppy.
Elsie's favourite Dorwest product: Definitely Dorwest Scullcap and Valerian! Although not necessarily a nervous dog, Elsie can get easily over excited. This especially shows when she gets in the car to come to work in the morning. She just loves being one of the office dogs! She's always the first at the gate when Ben's getting ready and will wait by the gate to be first out. Then when she recognises she's almost at the office, Elsie gets excited and starts whining in the car. The Scullcap and Valerian just help take the edge off her and allows her to be a little less daft…most of the time!
Elsie's Role: Elsie has a variety of roles here at Dorwest Herbs. One of her personal favourites are office inspections which include doing a very thorough test of the carpet, with her classic carpet roller moves! When she's not snoring in the bed during her lunch break, she can be found in the main office, rolling about having a back scratch. Elsie is a great judge of character – while she won't let just anyone pet her, her daft character comes through for all the office to see! Despite being 10 she's convinced she's either a puppy or a child.
A good example of this is when she jumps on a lap, often without notice. Ben has had a fat lip on more than one occasion! Elsie is a great co-worker though, as she's so supportive. She always sits as near as possible, just so she can let Ben know she's there. And finally, for a whippet, she's quite vocal. This especially shows at lunchtime walk time or the end of the day. Elsie likes to let out a "roo-roo" in her best dinosaur impression.
Emily & Barney, the French Bulldog
Age: 4
No. of years at Dorwest Herbs: Barney comes into work on the quieter office days! But has been a part of Dorwest for the last 3 years.
Barney's favourite Dorwest product: Barney is taking a few different Dorwest products which all work well. If he were to choose one, it has to be the Green Releaf Tablets. This has helped relieve his skin and allergies. Constant itching and scratching are no more!
Barney's Role: The attention seeker and office entertainer! Barney constantly requires people's attention. If you don't pay Barney attention, he will use his wide range of "whines" (so strange that they're hard to ignore). He won't stop until you come and say hello! When he's not busy demanding some attention he'll be sleeping away, making everyone laugh with his snoring. Barney also commands attention by entertaining the Dorwest Herbs team with his fun tricks. His favourites are 'bang', 'touch' and 'hi 5's!' (anything for that bit of cheese!)
Becky & Molly-May the Miniature Dachshund
Age: 2
No. of years at Dorwest Herbs: Molly-May has been one of the Dorwest office dogs for 2 years. You may have seen her a few times over on our Instagram, where she and some of the other office dogs like to make an appearance from time-to-time!
Molly-Mays' favourite Dorwest product: Molly-May has two firm favourites: One is our Skin Balm for Dogs, as it helps her sore armpits & toes. The other is the Tree Barks Powder. This helps to soothe her tummy when she decides to eat very unpleasant things or be super greedy, like scoffing cat food. Recently she even helped herself to a box of eggs. Molly-May does love scrambled egg, so perhaps she was attempting to make that!
Molly-May's Role: Chief of Security at Dorwest. Nobody can set a toe in the building without her letting us know very vocally. She also loves to roll and have her tummy rubbed regularly. Molly-May has her favourites at Dorwest and does excitable squeaks (& minor pees, ahem!) when she sees them. She loves her bed and you can always find her burrowed under blankets. Molly-May is possibly the laziest Daxi in the world.
#BRINGYOURDOGTOWORKDAY – WOULD YOU LIKE TO JOIN IN THE FUN?
This year, we're proud to be a 'Pawsome Partner' of the annual event #BringYourDogToWorkDay which aims to raise funds for animal charities; All Dogs Matter and Animals Asia. It looks like it's going to be a really fun day, with a real focus on dogs who are "working from home."
So, how can you and your dog join in? Well, there are a number of ways including four online dog show classes being streamed live on the day via ZOOM. Classes include Britain's Best Home Office Dog and Best Lockdown Hero. Click to discover more details and watch the Bring Your Dog To Work Day live stream. Or your dog could enter the Hall of Fame competition! Just make a donation and then either upload your best 'Pooch Selfie' or 'Dog with a Job' photo. There are some great prizes to be won and you might even be able to spot your dog on the event website or social media channels!
If you want to follow the fun across social media, use the hashtag #BringYourDogToWorkDay and follow and tag the official social pages below:
Instagram: @BringYourDogToWorkDay
Facebook: @BringYourDogToWorkDay
Twitter: @BringDog2WorkUK
Do you work with your dog?
We love our team of office dogs here at Dorwest Herbs. They certainly add a lot of fun to the day and keep us all on our toes! Are you lucky enough to work in a dog-friendly office? Or does your dog help support you when you work from home? We'd love to hear all about your experiences of office dogs. Pop us a comment below or send us your thoughts and photos of your four-legged co-workers via our own Instagram or Facebook pages. We'd love to see them! We hope you'll join us on the 26th of June to celebrate #BringYourDogToWorkDay too!
Dorwest Herbs have been looking after dogs for 70 years with expertly formulated herbal supplements for pets. To find out more about our range of herbal pet remedies, get in touch with one of our experienced advisors today. Call us on 01308 897272 or use our contact form. Plus, get free UK delivery on orders over £50.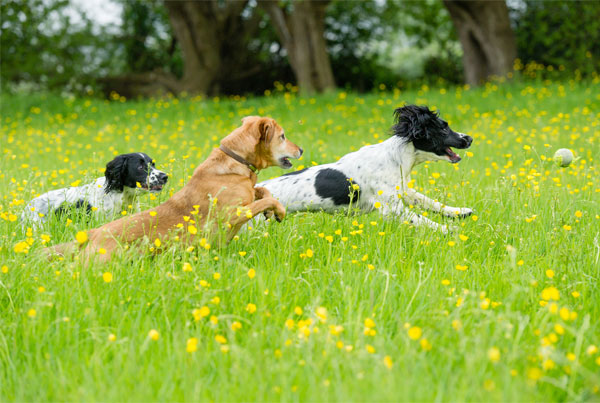 Those long summer days can be an absolute joy for many of us, but for some, they can spell one thing; allergies! Unfortunately, the same applies to many of the nation's dogs. The good news is, there are several remedies for your dog's allergies. Our blog post will help you identify some common symptoms as well as give you an opportunity to gather some top tips to help your dog with summer allergies. Ready to soothe and keep those allergies at bay?
Does My Dog Have A Summer Allergy?
Noticing changes to your dog's behaviour and their general condition during specific times of the year is the best way to identify if your dog has summer allergies. Your dog may display symptoms in the following ways:
• Excessive scratching, rolling around etc due to itchy skin
• Excessively licking their paws
• Rubbing their ears & nose more often
• Visibly sore skin e.g. red, dry particularly near their eyes, between paws, legs etc
Summer Allergy Public Enemy Number One: Grass Pollen
Understanding the cause of any allergy can give you and your dog the best chance of minimising the impact. As with most common allergies in the summer, pollen is the main culprit. Specifically, grass pollen is public enemy number one for dogs with summer allergies and is most common from May to July. Tree pollen can also be problematic for some dogs but this is mostly found in spring. So be particularly mindful during these specific times of the year….
How To Help Your Dog With Summer Allergies
There are a number of summer dangers for your pet but thankfully, there are several ways to help your dog with summer allergies so you can minimise associated symptoms:
1. Avoid walkies on grass: If you know grass pollen is causing your dog discomfort, try to avoid it as much as possible, particularly between May and July, when it's usually most problematic. This could be a pawfect opportunity to explore new walking routes with your dog.
2. Wipe your dog after walkies: If your dog does come into contact with grass during their walk, wipe them over with a damp cloth as soon as you get home, including their paws. This helps to remove the excess pollen on your dog's coat and also doubles-up as a lovely soothing sensation too!
3.Pollen check & walking times: It's easy to check the pollen count these days via various apps and weather forecasts. On days which have high pollen counts, really try to avoid the grass. Also limit your daily walkies to times when the pollen is likely to be at its lowest e.g. early morning or early evening. Your dog might not be grateful for the early morning wake-up call initially, but he/she'll thank you if it reduces the symptoms of summer allergies.
4. Regularly clean bedding: Pollen has a habit of falling from your dog onto their bedding. Dogs then lay in their bed and the cycle begins again, causing further discomfort to your dog. By regularly vacuuming and washing their beds and blankets, this helps to stop this cycle.
5. Soothe their skin: Despite your best efforts, sometimes your dog may still struggle with some side effects of summer allergies. Itchy skin can be one of them. Thankfully there are a number of ways you can help your dog tame their itch!
Our soothing Skin Balm For Dogs is packed full of soothing herbs which help to moisturise and repair sore skin. They do this by softening skin and helping stimulate cell growth. The chamomile and calendula ingredients also help to calm irritated skin. Apply our skin balm regularly to your dog's itchy skin if you notice any symptoms and do so until it disappears.
Prevent Irritation With Natural Dog Shampoo
Bathing your dog with natural dog shampoo occasionally during the summer months can be helpful too. Doing so not only soothes skin and keeps your dog cool but also helps to remove any excess pollen still hitching a ride on your dog's coat!
Your dog might be spending some time at the beach or in water more often during the summer months too. The combination of murky or salty water and sand can also add to skin irritation if not washed off properly. Thankfully, we have a brand new range of shampoos to help with all of these summer symptoms!
All three have no artificial fragrances, SLS or parabens and are silicone, mineral oil, petroleum and PEG-free. Our natural shampoos for dogs can help in the following ways:
· Soothe Sensitive Skin
Has your dog become itchy over the summer months? Is their skin sensitive and sore? Our Oatmeal Advance shampoo has been reformulated to create our Soothe & Calm Shampoo. Whilst it can be used for all dogs, this has been specially formulated for dogs with sensitive and irritated skin.
This soothing shampoo for dogs helps to maintain coats and works thanks to the combined efforts of the ingredients. These include oatmeal, aloe vera, chamomile extract and lavender essential oil and extract. An awesome super-power of soothing and cooling in one bottle!
· Say Goodbye To Fleas!
During the summer months, fleas particularly thrive, as they love the warm conditions. Fleas can add to the misery of symptoms of allergies, such as itchy skin. Our new reformulated Clean & Fresh Shampoo replaces our pennyroyal shampoo.
This fresh scented shampoo for dogs contains black peppermint essential oil (traditionally known to deter parasites). Working alongside this is eucalyptus and lemongrass essential oils, combining to help deter the fleas (apparently they don't like the minty smell!) Plus, it can be a good way to keep your dog cool and remove excess pollen too.
· Enhance Coat Shine & Moisturise
Finally, the newest addition to our shampoo range is our Scent & Shine Shampoo. It contains the same soothing properties such as aloe vera and chamomile extract but combines with some different essential oils which aid both skin and coat. This includes rose geranium which soothes and balances the skin, blood orange which enhances coat shine and reduces redness as well as jasmine which heals and moisturises.
6. Soothe their paws: Itchy paws can be frustrating for your dog. Excessive paw licking can lead them to become cracked and sore. Thankfully our soothing Paw & Nose Balm For Dogs could be the 'paw'fect solution! It's lick-safe and includes soothing ingredients such as calendula, marshmallow, chickweed, beeswax and pure shea butter, all of which help to calm the itch and nourish the skin.
7. Regularly maintain your dog's coat: Grooming your dog is important throughout the year but keeping your dog regularly groomed during the summer months helps to remove excess pollen, prevent itchiness from loose fur and also helps your dog keep as cool as possible.
8. Help from the inside, out: Did you know, there are several ways to ease the symptoms of summer allergies from the inside, out? Find out more about our natural remedies for dog allergies.
Dorwest Garlic & Fenugreek Tablets are a licensed herbal medicine, which can be used for the symptomatic relief of minor infections and skin conditions. This is because of their anti-inflammatory compounds as well as antibiotic, antiseptic and anti-viral properties.
Our Omega Star® is also a great way to help with your dog's skin and coat as it moisturises, calms and nourishes the skin moisture barrier and helps restore coat shine and supports quality coat growth, from the inside, out!
If you're unsure which would be best for your dog, always feel free to contact our friendly advisors, who are packed full of helpful knowledge! remember to always consult your vet if symptoms persist to ensure there are no other reasons why your dog may be in discomfort.
Goodbye Summer Allergies, Hello Happy Dogs!
Hopefully, you now feel armed with the tools and knowledge to help your dog with summer allergies. Goodbye summer allergies, hello happy dogs! We'd love to hear your summer allergy stories and how you've helped your dog overcome them. Come and say hello on Instagram or Facebook pages or pop a comment below.
Dorwest Herbs are experts in herbal pet care and have been helping dogs become healthy and happy for over 70 years. To find out more our natural allergy relief for dogs please get in touch on 01308 897272 or use our contact form. Plus, get free UK delivery on orders over £50.