Hello my name is Ness and I am owner to a 6 year old Border Terrier called Jack. Jack, was re-homed from Border Terrier Welfare in 2012, aged 13 months.
His fourth home, my first dog. Jack is integral to my stability, on profound levels. He helps me live with enduring complex mental health (MH) illnesses and has offered me an existence I never imagined. In reality we have undoubtedly helped one another. Two lives have been saved. Jack had a very unstable start. We both had to overcome immense challenges and to bond through intense training. Fear aggression, was possibly the most worrying aspect of his behaviour to overcome. It took us a year, before an off lead walk on a dog friendly beach was possible.
Right from the start I was keen Jack had the best chance possible and that included his overall well being. Dorwest was recommended to me and therefore ordered their catalogue. Ever since reading this I was keen for Jack to have appropriate Dorwest products to support his overall wellbeing. For example, given regularly at a maintenance dose, Garlic and Fenugreek Tablets can increase resistance to infections by supporting the immune system and are also given to promote general health.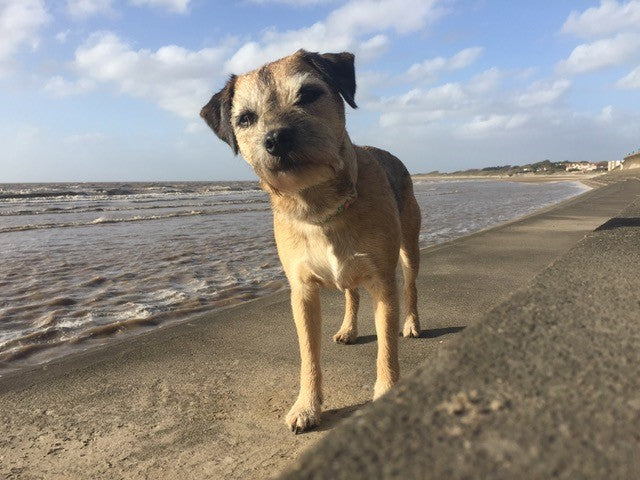 Jack loves nothing more than to pose! Amongst many highlights his CV states modelling for 'Scrufts' handmade dog collars & leads. In 2014, he qualified for the Buckham Fairs', Re-homed Dog Championships, coming 2nd. In 2017, 'Dog Friendly' held a competition to find 12 dogs with the friendliest face to feature in their Dog Friendly Face of the Year Calendar 2018. Out of 3000 entries, Jack was judged to be of the 12. We actively raise awareness, breakdown stigma attached to Mental Health. Jack has injected motivation & confidence  in me e.g. to speak on local BBC radio, TV, write articles e.g. Rethink, The Metro. We have raised thousands for Mental Health charities & Border Terrier Welfare UK.
Jack has passed necessary obedience tests and is now my [owner trained] Assistance Dog for mental health. He is trained to assist me and has learnt various tasks that mitigate my disabilities. After hours of Public Access training Jack can work safely and behave appropriately in public settings. 
The tasks Jack perform include medication retrieval on cue. He does this should I need immediate help for pain/anxiety. However Jack now brings my medication at the times of day I need them without a cue. It is as though Jack has an internal clock and knows when I am due medication. So I do not forget to take it. 
Jack performs deep pressure therapy on cue wither my lying across my chest or lap. It is well documented that deep pressure has a calming positive effect on mood and behaviour. Jack is able to alert me should I disassociate by nose nudging; he will also empty the washing machine; pick up dropped items; and retrieve the landline. These are a selection of cued tasks Jack has learnt to become my Assistance Dog.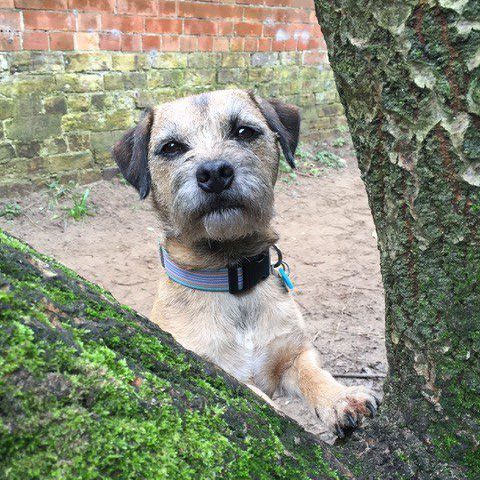 As a working dog I was keen to support his overall health in light of performing at a higher level physically. So he has a Dorwest supplement Keepers Mix, which has a positive effect on many organs and supports their function to help maintain the dog's body's natural balance.
I have been told his turnaround is "absolutely remarkable".  As we go about daily life he brings joy to many, whether in the street or when I'm in hospital. He saves my life every day & confounds early opinions who deemed Jack un-trainable and the irony is I was deemed un-treatable as well.
Dorwest support his wellbeing in numerous other ways, for example his teeth. I have always used their Roast Dinner toothpaste and the vet asks whether I brush and on acknowledging I do, the vet says it shows. As part of his first aid kit I keep Euphrasia 15C and Garlic juice. The homeopathic remedy Euphrasia is fabulous in keeping Jack's eyes clear from in infection/allergy which he is susceptible to every Summer and the Garlic Juice is fabulous antiseptic to cuts and grazes, it also has anti-viral and antibacterial properties. Like Crufts 2018 Best in Show winner Tease, Jack uses Omega Star. I do not think it a coincidence of how often the quality of Jack's coat is commented on.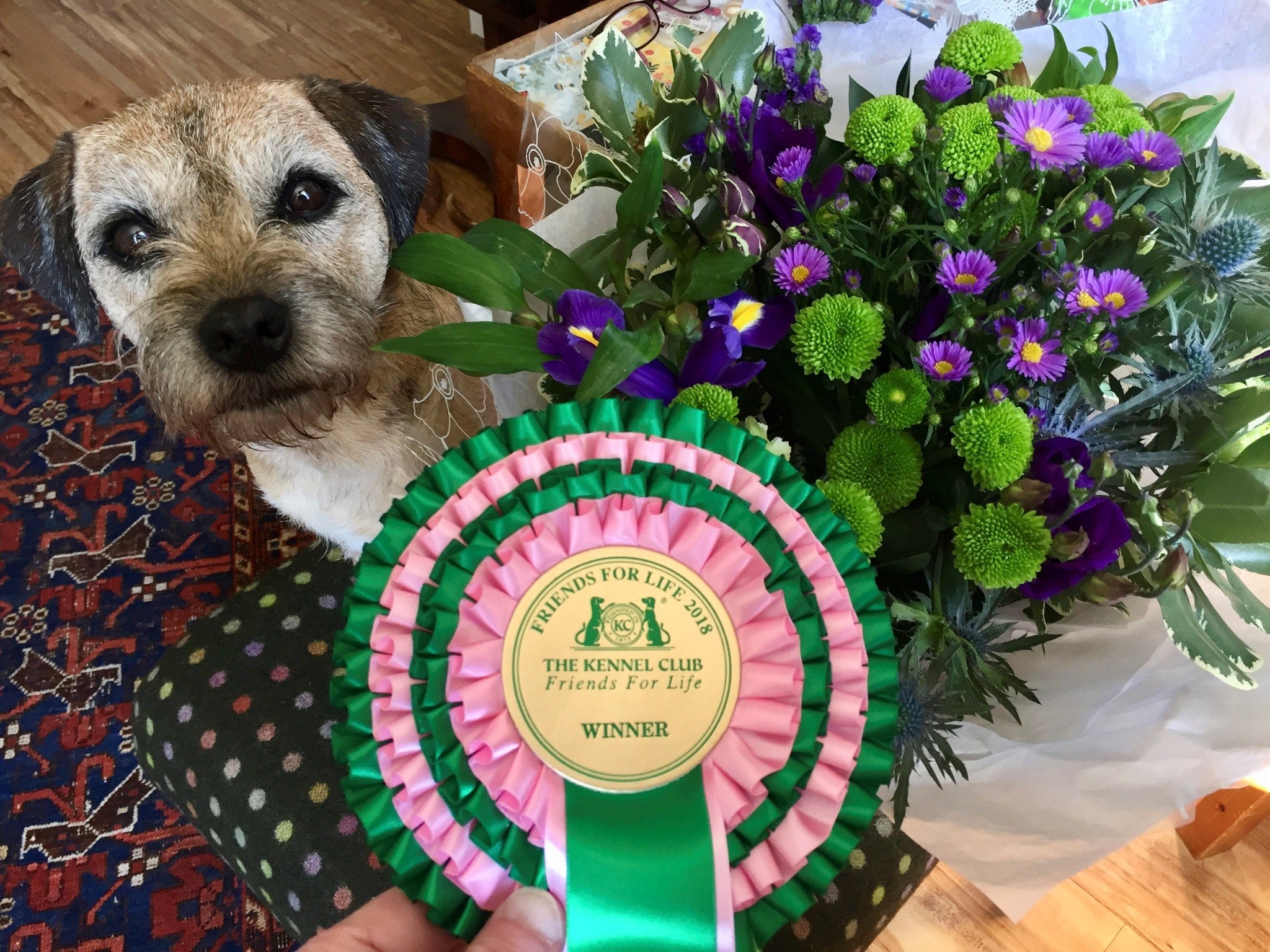 To follow on with the theme of Crufts 2018. The pinnacle of our story finishes with Geri Horner announcing Jack & I as winners for The Kennel Club's Friends For Life  Competition 2018 in the Genting Arena at Crufts. Friends for Life celebrates stories of friendship in adversity; lifetime service through bravery; dogs that provide priceless support, unwavering loyalty, devotion and companionship
Feature photo by Neil Munns photography