---
The Pawscars is the culmination of the show dog year that aims to congratulate those who have excelled in their expertise. We are always excited for 'Exhibitor of the Year' category as we have sponsored this category for 6 years as it's an award to highlight those exhibitors who have excelled not just in the show ring but also supported many others and shown what is good about dog shows. Below we find out about this years excellent nominees and don't forget, voting is still open until February 29th! Vote here!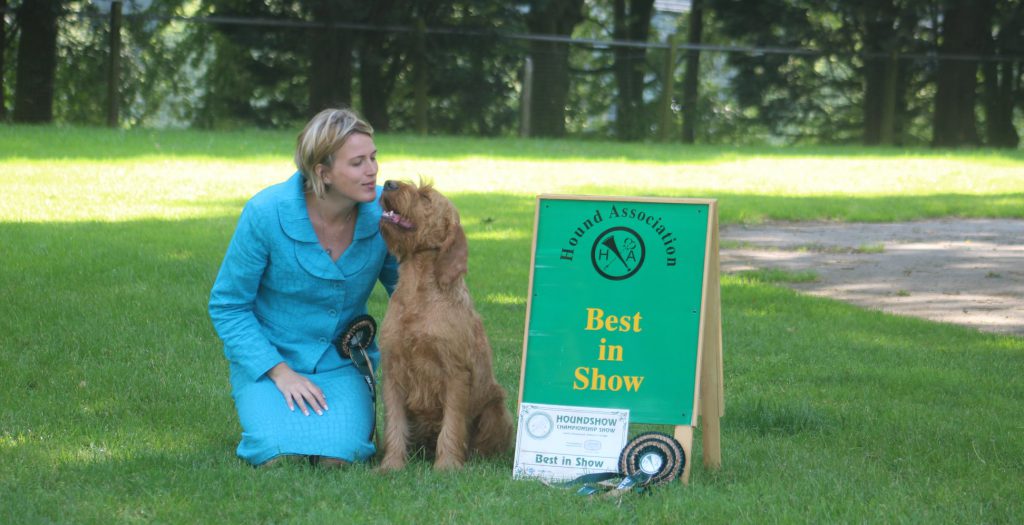 CLAIRE COOPER
"What many people don't know was I entered the ring for the first time aged 6 handling a yellow Labrador, Tibetan Terriers joined 6 months later with Tibetan Spaniels arriving in 1990. The hounds were a much later arrival in the early 2000's after my dad fell in love with a PBGV and naturally the GBGV followed.
2019 was a dream, the highlights that sick out are; Hound Association of Scotland winning Best In Show with Hibeck Dino owned by Jean McDonald Ulliott, making history by being the first Import Register to win a Group, immediately followed by winning Best Puppy In Show with my homebred GBGV puppy Jayanel Ambiorix. Birmingham National where Ch Dedicated to Sensational White Susu (Imp Nld) won her crowning CC making her the first white Tibetan spaniel in the UK. The following day I embarked in a charity bike ride from London to Paris! Blackpool – a show where I shouldn't have been at but attended as I had fled from the Indian police days earlier (that's another story!) winning Best in Show with Dino again making history. Hound Association winning Best in Show, so Dino had won both Group Championship shows. July attending the YKC camp in Scotland and training the future generation of our hobby. The year ended with Eric top GBGV puppy and Dino Top Hound. With many other achievements along the way 2019 both personally and professionally will remain in my memory.
I wish to say thank you to those who nominated me for this award, it really is the culmination of a fantastic year. Other thank you's to "team Susu" who make sure I am in the right place at the right time with the right dog which is a feat in itself, to the people who help me out at the drop of a hat in caring for my dogs when I have to travel with work, to Jean who allows me to handle a dog in a lifetime, to everyone who has acted as a mentor to me throughout the years and shared their knowledge and experience. Finally thank you to the dogs who never let me down and allow me to enjoy this wonderful hobby of ours."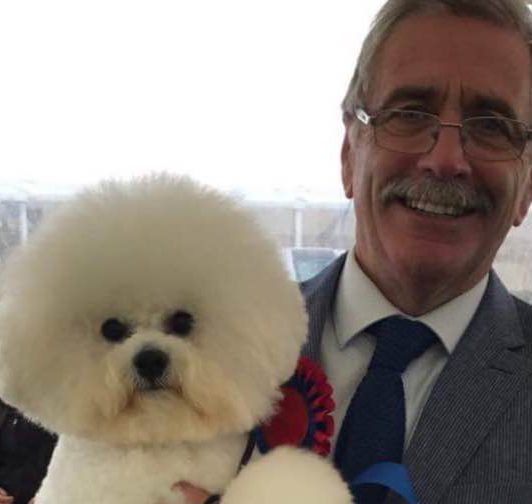 MICHAEL COAD
"It is an honour to be nominated for exhibitor of the year 2020 I have been showing dogs for almost 50 years and I still get the same buzz as I did all those years ago. Pamplona had a very successful year with the bichons winning 30 cc between them and doing the double twice they won 8 groups three reserve best in shows plus best in show at the northern and midland club and best puppy in show with our new boy joe at the GB club show  best of breed at Crufts.
Best in show at Darlington and LKA plus winning the Eukanuba CH stakes overall at Windsor. Pablo ended the year winning number two dog all breeds. Good luck to all the other folk that were nominated. Pamplona is all about teamwork, so I'd like to say a big thank you to my partner Geoff, Rich and Wills for putting up with my madness last year it was a roller coaster but well worth the ride."
---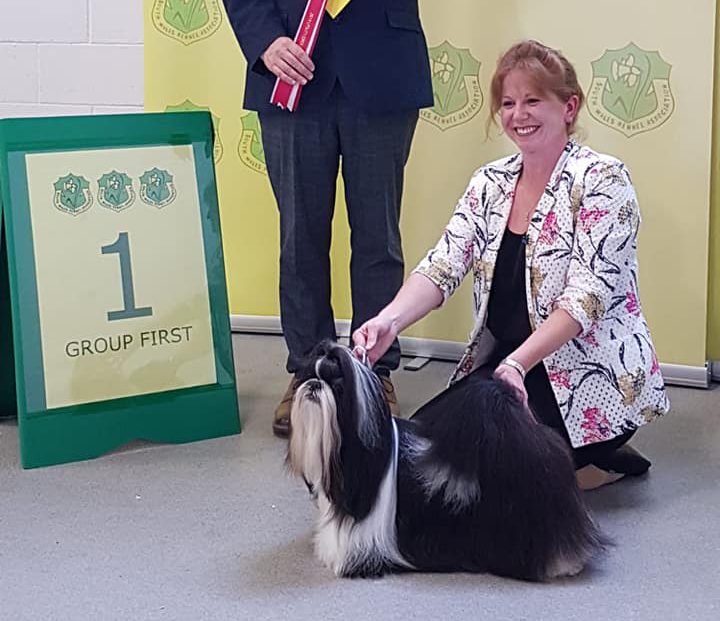 HELEN HOWARD
"When I heard I'd been nominated I was absolutely amazed: I am humbled to be amongst such great company and would like to thank everyone who voted for me from the bottom of my heart.
My life in dogs started when I was a young girl, when Gay Widdrington held Shih Tzu gatherings in the grounds of her home. I thought I was the height of fashion in frilly ankle socks or a pink shell suit!
If I had my way, I'd have been in Standard Poodles but as my parents wouldn't allow me my own, I used to borrow from the Nathan and Aikman family. It was from there that I was bitten by the show bug.
Over the years it was just me and mum campaigning the Tameron Shih Tzu Kennel, but now our family has grown with Shaun, Samuel and Layways Gundogs. We are also very fortunate to handle for others including Kingfriend. We are a small Kennel but have been very successful over the years with many great wins including double CC winners at Crufts, but most recently Group 1 with "Cilla" at South Wales and "Sidney" winning the Eukanuba Pup of the Year Competition. I wouldn't be here today without some very important people and want to thank them for all their support: mum, dad and Shaun. "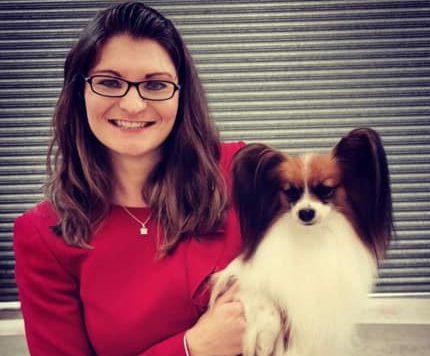 KIRSTY MILLER
"Dog showing has been my entire life, before I could even begin walking, I was crawling around, dog in tow trying the beat the older junior handlers (always the competitive sort!). I was raised in a dog showing family with my Mum and Dad who are world famous for their 'Feorlig' English Springers and Skye Terriers. My whole life I have breathed and lived showing dogs, it really is who I am and what I absolutely love doing. I grew up showing Springers and Skyes, but I later introduced Papillons and since meeting my Fiancé, Evan, I now also breed and show King Charles & Cavalier King Charles Spaniels.
I have been very lucky to have many successful years of showing but 2019 for me really does exceed all others winning in total 28 CCs and 18 BOBs. I have shown 3 homebred Champion Papillons throughout 2019 winning 19 CCs between them. I have won the CC & BIS at ALL the Papillon Club Ch Shows and ended the year on such a high doing the double with brother and sister at LKA.
I am thrilled that my Papillons are Top 1, 2 & 3 with the Papillon Club points and 'Feorlig' are Top Breeder, Brood Bitch & Stud Dog with Our Dogs. I also campaigned with Evan our American Import King Charles bitch to win 6 CCs all with BOB which made her Our Dogs Top King Charles 2019.
At Crufts 2019 we introduced a new Skye Terrier baby to our kennel from Slovakia. He was shown lightly throughout 2019 but I campaigned him to 4 BPIB's and two Puppy Group 2's at Ch Shows which subsequently made him Top Skye Terrier Puppy 2019.
I would like to take the opportunity to thank whoever nominated me for this coveted award, I really am truly amazed & honoured to be chosen for something I love doing and thank you to all who have already voted for me. I would like to wish the best of luck to my other nominees who are truly deserving, I still can't quite believe my name is amongst yours!"
Voting is still open until February 29th! Vote here!