The Pawscars is the culmination of the show dog year that aims to congratulate those who have excelled in their expertise. We are always excited for 'Exhibitor of the Year' category as we have sponsored this category for 5 years as it's an award to highlight those exhibitors who have excelled not just in the show ring but also supported many others and shown what is good about dog shows. Below we find out about this years excellent nominees and don't forget, voting is still open until February 28th! Vote here!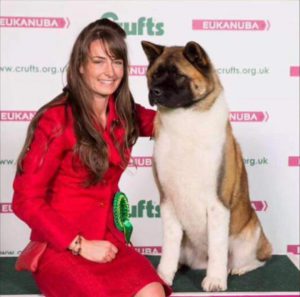 Faye Bevis
"My life has always been with Akitas. From a young enthusiast of the breed, I have sat and watched so many talented breeders, owners and handlers of this breed from all over the World. Learning handling skills, presentation, good breeding practise and gaining a lot of friendships, I could never imagine my life without an Akita.
It takes a village, but I have been so fortunate to be awarded with so many accolades in the breed. I will continue to represent the breed in the UK and overseas with our breeding stock, and I hope that my mentors would be proud of me today, with all that our kennel has achieved.
To the many Judges, breeders, friends and family for all their support, I could not be more grateful. To be nominated for Exhibitor of the Year at this year's Pawscars is just another achievement in the book we, as exhibitors, owners and breeders would be so honoured to be presented with. I could not be in better company of this category, of my fellow exhibitors who are also great pioneers of their breed."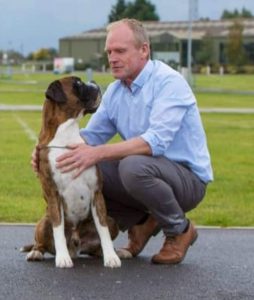 Mitch Griffiths
"I grew up with boxers and purchased my foundation bitch off Julie Cook of the Manic Boxers,  who is the mentor responsible for my success. The affix was registered in 2002, but I didn't start showing seriously until around 2008 due to work commitments. I have bred / owned 7 champions, had numerous group wins and placings at general champ shows and several BIS at club shows.
2018 has been a great year with 3 Lanfrese bitches gaining their crowns, 2 for the home kennel and RBIS at Border Union. We have ended the year with Top Boxer, Top Kennel, Top Sire (All breeds – co owned with Yvonne Miller),runner up Top Dam, Joint Top Breeder and Crufts BOB and Group 3. We're looking forward to 2019 with a couple of exciting youngsters, one of which has qualified for the Puppy Stakes final."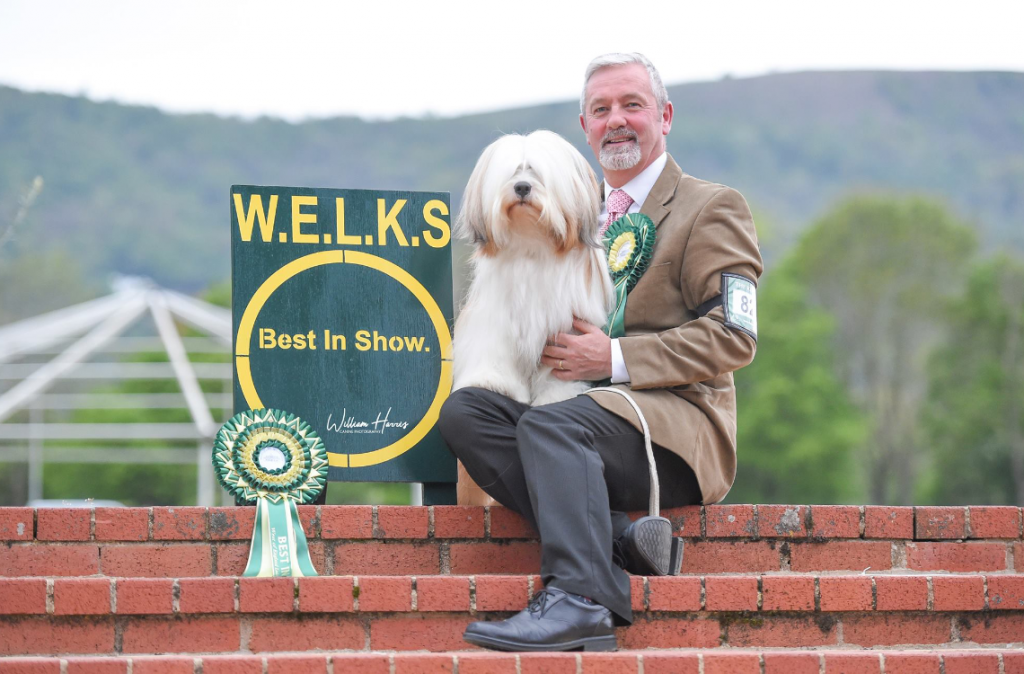 Neil Smith
"Whilst growing up with dogs I had never exhibited. It was later in life in the late 1990's after meeting Ken Sinclair (Araki) that I was introduced to showing dogs and in particular Tibetan Terriers. Originally I intended to watch and support from the side lines, however anyone who knew Ken at the time will know how successful as a breeder and exhibitor he was and it did not take long for me to be persuaded to handle. I was privileged to have such a knowledgeable mentor and with friends in the showing world including the Spavin family (Dialynne) I was given plenty of encouragement and advice.
As an exhibitor I won my first CC showing Araki Afro Dizzy Act in 2004. Dizzy was always a special girl and sadly I lost her last year at just over 14 years of age. Dizzy was a daughter of Crufts BIS Ch. Araki Fabulous Willy who I had the honour of owning and living with.
More recently I have been breeding under my own Tetsimi affix and was always looking for a dog to emulate "Willy". In Jagger Tetsimi Moves Like Jagger I feel I have done that. I love showing him and I think that comes through in what we have managed to achieve as a team."
Abbie Cund
"I was born into this wonderful world of dog showing and from only a few weeks old have attended dogs shows with my father (Dean Cund) with our Staffordshire Bull Terriers. It was a few years before I myself entered the ring but at 11 years old I decided I wanted a show dog of my very own. I wanted to start from the beginning with a new breed and set my heart on a French Bulldog who was soon followed by a Boston Terrier a few years later and then finally a Staffordshire Bull Terrier.
13 years on and I have exhibited dogs carrying the Chelmbull affix to their championship title in all 3 breeds winning 52 CCs between them. We were Top Dog, Top Brood and Top Breeders for French Bulldogs in 2015.  In 2018 my dreams came true when my special boy Morgan, Ch Chelmbull The Aviator won the RCC at Crufts and then went on to win 15 CCs, a Group 3, 4, two utility group 1s and finally making breed history by being the only male to have ever won a RBIS at a general championship show. He also won the French Bulldog Supreme Trophy Awards Gala and finished 2018 as top French Bulldog and #4 in the utility group.
A year that truly blew me away as a breeder/exhibitor and one I shall cherish for the rest of my life. The icing on an already huge cake was receiving approval of being passed to award CCs in 2020 for both French Bulldogs and Boston Terriers at the age of 25.
I can't thank the judges enough from the bottom of my heart for being part of my little kennels journey and making my biggest dreams coming true. Also to the team that's makes Chelmbull possible- my father, Dean Cund, and our co-owners and best friends Alex & Linda Harrop. We love every part of what we do with the very best of friends to share it with. I would like to extend my thanks to friends within our breeds and also across all breeds for their continued support and friendship, with special mentions to Sarah Wilkinson and Marie & Ann Burns. Best wishes to all for the future, and finally being nominated for exhibitor of the year has completely blew me away, this is a fabulous event that does a great deal of good for so many worthy charities, the great support it gets shows the wonderful people we have in our sport. To be chosen to be part of this fabulous event by people I consider my role models means more than I can say."
Voting is still open until February 28th! Vote here!