Essential daily dog supplements
The most common question our team of advisors get asked is
'What supplements can I give my dog everyday to keep him (or her!) healthy?'
Much like ourselves, it is much more sensible to keep your pet healthy than wait until perhaps their health is not quite as good and have to try and seek a solution.
Essentials for a healthy life must  be regular exercise, a good quality diet and of course love and attention ensures that tail keeps wagging!   We have the perfect combination of supplements which will benefit your dog whether you feed raw or complete.  These are the perfect supplements to help keep your dog in perfect health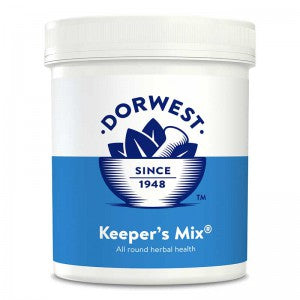 Keepers Mix is a wonderful and unique formulation that gives any diet a super-boost. Balance is the key to this herbal blend of 8 herbs, which contains natural antioxidants, vitamins, minerals, chlorophyll, fibres and bioactive compounds.
Launched just a few months ago, Omega Star has gained quite a reputation! This is a carefully created blend of nutritious plant oils, containing Flax Seed, Blackcurrant Seed and Borage Seed Oils and  natural Vitamin E.  It helps to nourish the skins moisture barrier and helps restore coat shine and hair growth. It also is an excellent way to obtain Omegas 3 & 6's
Garlic & Fenugreek Tablets is the Dorwest fundamental 'staple'! It can help increase resistance to infections by supporting the immune system and also helping to create an environment that parasites really don't like!
This is a VMD authorised medicine and has been sold for over 40 years
As a special treat there is 25% off these three essentials until the end of November 2016 just quote EVERYDAY when shopping online at www.dorwest.com or phoning 01308 897272 from 9-5pm Mon-Fri. Don't forget our friendly team of advisors are always available to chat!