Crufts 2016 – Not just show dogs!
Alongside show dogs, Crufts 2016 has plenty more to offer including, Agility, Flyball and Heelwork to Music and Dorwest is proud to support all types of dogs across every field. Because of this we thought it would be a great idea to find out more about #dorwestdogs outside of the main event and that's when we found Bailey. He is true to his breed being a gorgeous, happy, and extremely well behaved Staffordshire Bull Terrier who lives, and sometimes works, in London. We first met him at the International Agility Festival last year. He loved to compete in agility in his younger years but is now part of the East Anglian Staffordshire Bull Terrier Display Team! We caught up with Bailey and his owner Ashley to find out even more about this one-of-a-kind dog!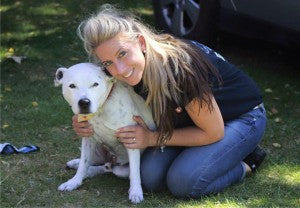 Bailey is an 11-year-old Staffordshire Bull Terrier and is a one in a million dog. He has the kindest temperament, being almost like a young child, and loves everyone and everything – especially agility and sleeping! Bailey lives an active lifestyle (providing it isn't raining as he would rather shoot back upstairs and dive under the duvet to escape getting his paws wet!) with his three canine companions at home; a Jack Russell Terrier, a Poodle, and a young Alaskan Malamute, as well as three cats. Bailey competed in agility for many years and is now part of the East Anglian Staffordshire Bull Terrier display team – an activity he's done now for the last few years. The team travel around the UK demonstrating how wonderful the SBT is. Sometimes you may even spot him showing off his acting skills in adverts on the television! We use a number of products from Dorwest Herbs for both the dogs and the cats. Our favourites are Tree Barks Powder, Comfrey & Calendula Balm, Mixed Vegetable Tablets, and a variety of the Homeopathic Remedies.
© All rights reserved Dorwest Herbs 2016